Big-name UK retailers act to appeal to Irish consumers as austerity bites in the Republic.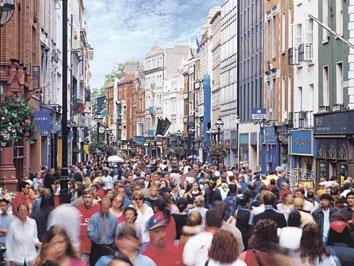 UK retailers operating in Ireland have vowed not to pass a VAT hike onto hard-pressed shoppers in the country. M&S, Arcadia and River Island, along with international giant Aldi are among those that have pledged to absorb the VAT rise – from 21% to 23% – when it is enforced in January.
A spokeswoman for M&S, which has 18 Irish stores, said: "We will not be passing on the 2 percentage point VAT increase. Prices across fashion, furniture, beauty and home will remain unchanged."
Aldi, which has 90 stores in Ireland, ran an ad in The Irish Independent, which said: "We think you are paying enough so we won't be passing on the increase on our everyday groceries."
It is understood that fashion retailer New Look will also hold prices following the VAT rise. And Schuh chief executive Colin Temple said the retailer is likely to "grin and bear it" and absorb the cost.
However, a Next spokeswoman said that, as in the UK, it will be passing on the rise.
There has been speculation that Currys-owner Dixons will not pass on the rise either. However, a Dixons spokesman declined to comment "due to commercial sensitivities".
A Kingfisher spokesman said B&Q UK & Ireland is reviewing its options while a spokeswoman for fashion group Aurora said Coast, Warehouse and Oasis are also considering their position.
Retailers in Northern Ireland could benefit from a potential surge of shoppers travelling from the Republic to mitigate the effect of the increase, a trend that emerged at the height of the recession.
Industry body Retail Ireland said that as well as the VAT rise, an increase in fuel costs, as a result of the increased carbon tax revealed in Irish finance minister Michael Noonan's budget speech on Tuesday, could act as the trigger to drive consumers north of the border.
Retail Ireland director Stephen Lynam said: "We are disappointed by the rise in VAT, which could end up taking money out of the economy. In 2009, a favourable exchange rate and cheap alcohol caused people to rush across the border."
An spokeswoman for Asda, which operates in Northern Ireland but not the Republic, said it is unclear whether the VAT rise will push shoppers north because it is just one factor influencing cross-border shopping.
The Irish government has also scrapped plans to ban upward-only rent review clauses retrospectively. Critics have linked upward-only rent reviews to the collapse of many retailers. Several UK retailers are already finding conditions tough in Ireland. M&S flagged the impact of macroeconomic issues in last month's interims, while Carpetright has shut stores there this year.