As Tesco reports dip in like-for-likes, 'confident' Sainsbury's goes on attack.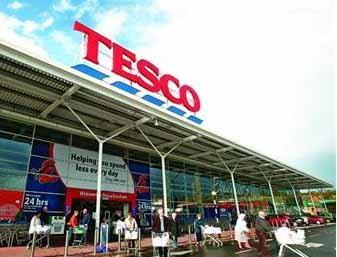 Tesco group chief executive Philip Clarke is confident the strategy the grocer is taking to improve the UK business is on track as it battles with rival Sainsbury's on pricing.
Pressures on shoppers had intensified and as a result first-half growth was "subdued", Clarke said, but argued the retailer was getting back on track. "We're beginning now to get back to being first for customers. We've not been happy with our growth [in the UK] for some time but we've taken some firm action."
Tesco reported UK like-for-likes excluding petrol and VAT down by 0.5% in its first half, with a fall of 0.9% in the second quarter, while Sainsbury's like-for-likes rose 1.9% excluding petrol in its second quarter. Tesco has greater exposure to non-food, which has been hit particularly hard across the sector.
Clarke said the UK strategy involved axing prices – the Big Price Drop on 3,000 lines launched last week – but added: "Value is not just about price and there is more we will do to help the business."
Tesco is hiring more store staff and adapting its ranging and merchandising. It is also investing in quality on fresh produce and own brands such as Finest and 'venture brands' such as ChokaBlok ice cream.
Clarke said its Big Price Drop gave customers a "real reduction". The investment came from £300m savings from the axing of Double Clubcard points, and £200m from its internal step change programme on productivity. It has cut prices rather than launched promotions.
"It's not smoke and there aren't any mirrors," said Clarke, referring to Sainsbury's comment last week that the campaign was "giving with one hand and taking with the other".
He added that, on the 3,000 lines Tesco says are on the nation's shopping lists, it is cheaper than Asda. Its rival previously dismissed Tesco's campaign as "spin".
Sainsbury's chief executive Justin King said some of Tesco's price drops were time-limited and therefore "promotions by another name". The campaign was "typical supermarket activity" and Sainsbury's would continue to compete.
King said that in Sainsbury's Brand Match trial in Northern Ireland across 12 stores last week – the first week of Tesco's campaign – the grocer "won more baskets than the week before so we're confident in our pricing and promotions".
The spat between the grocers comes as Waitrose this week launches its "biggest ever" value campaign called '1,000s of ways to great value' focusing on its entry brand Essential Waitrose, the Brand Price Match on 1,000 everyday products it matches with Tesco, and its 1,000 general offers a week.
Tesco said it had started to make changes to its non-food business but that this area would inevitably suffer "as shoppers cut back on driving to out of town stores because of rising petrol prices".
Tesco general merchandise, clothing and electricals sales were down 0.9% in the UK, while slumping 4.8% like-for-like, compared with a fall of 3.3% in the second half of last year.
Sainsbury's said its general merchandise and clothing continued to grow, with back-to-school sales up almost 40% on last year, and it is launching a Gok Wan womenswear collection in stores this week. But it did acknowledge that electricals was a difficult market.
Clarke said that, with most of its non-food on long lead times, it "takes a while to change the ranges". Its move to stock the full range of Apple products rather than a selection was "selling extremely well".
On clothing, he said the "hot items are better than a year ago and we've bought in a more targeted way".
Grocers in numbers
Tesco, first half in the 26 weeks to August 27
Pre-tax profit was up 6.2% to £1.9bn
In the UK, trading profit was up 4.5%, while growth in Europe was up 11.8% and Asia up 18.7%. US losses reduced by 23.2%
UK like-for-likes excluding petrol and VAT declined 0.5%. Total sales, excluding petrol and VAT increased 3.4%
Sainsbury's second-quarter to the 16 weeks to October 1
Like-for-like sales excluding petrol were up 1.9%
Total sales, excluding petrol, grew 4.4%