Tesco is to invest £500m into lowering the price of everyday grocery items and simplify its promotions as it seeks to boost its flagging UK business.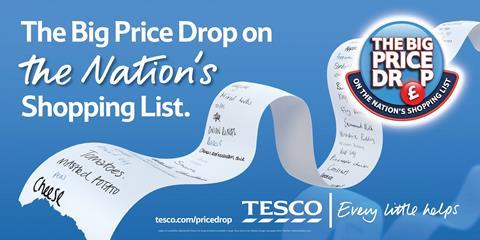 The grocer is launching a 'Big Price Drop' campaign on Monday, cutting the price of essentials such as milk, pasta, fruit and vegetables. The campaign will also push its own label ranges.
Tesco will also axe its double Clubcard promotion in four weeks' time to invest the cash into prices.
The move follows speculation earlier this week that Tesco was preparing an assault on prices.
The price of more than 3,000 products will be reduced from next week, and most of the investment will focus on its own brand products. Over the past 18 months Tesco said it has improved over 1,000 products in its own label ranges and around 1,000 of these products will have their prices slashed.
The grocer said it will simplify its promotions, reducing the number of multibuys, particularly in fresh foods. The move echoes Asda's drive for EDLP whereby it is seeking to reduce the number of promotions and focus on low prices.
Tesco said it will increase the value customers can get from their Clubcard vouchers by improving the exchange rates on the most popular rewards from three times to four times the value. It will also make Clubcard accessible online.
Tesco UK chief executive Richard Brasher said: "Across the country families are telling us the same thing - their budgets are under real pressure. They want more help today to afford everyday essentials. We have listened carefully and for families facing hard times and looking for genuine savings, The Big Price Drop will cut prices on the products they need to buy the most.
"We're giving customers a more straightforward shop - reducing the number of promotions and putting the emphasis on clear and reliable savings that everyone can benefit from."
He said Clubcard is "an important thank you to customers" but in the difficult climate customers are saying "that they also want more immediate savings at the checkout".
He said: "So we will give them both. Clubcard will still be the best loyalty scheme in the market bar none. And, the Big Price Drop on the Nation's Shopping List will give families the help they need right now at the checkout.
"My message to our customers in these tough times is clear - we have listened and we are going to help. From Monday, you will be able to save more money everyday at Tesco on the essentials you need the most."
Brasher said he expected the campaign to halve the impact of inflation for customers, and that customers still wanted Clubcard rewards but they also wanted something "for now". He said: "Customers said they would like a little bit more today and we're also improving rewards for tomorrow."
He said he expected the price discounts to remain in place, and most of the investment comes from efficiencies in the business.
The campaign is not a knee jerk reaction to competitor activity, said Brasher, but Tesco continues to monitor all players. He said Tesco needs to ensure customers don't need to go to the discounters, and also said Asda "is not 10% cheaper and it's unfortunate they're allowed to say it publicly".
He said: "Tesco will still run promotions but the marketplace has become a bit cluttered. We have to find the right balance and on some days that might mean promotions and on others that might mean rebasing. We felt it was time for some rebasing."
The campaign will include some non-food, and Brasher said that was an area which will also receive attention imminently. This follows group chief executive Philip Clarke outlining earlier this year that non-food was underperforming.