Creating new, ROI-driving roles is key to becoming a disruptive force to be reckoned with, reveals a retailer that is growing revenue 500% year on year. Find out more in our virtual discussion, free and on demand
Speaking exclusively on Retail Week's live virtual discussion 'Disrupt or be disrupted', in partnership with Juniper Networks, The Edit LDN's chief operating officer Millie Pearson revealed that investing in talent has paid dividends for the online luxury trainer and streetwear marketplace.
In just three years since its launch, the London-based retailer has grown from a pure ecommerce platform into a multi-pronged business with annual revenue of $12m (£9.72m) in 2022, a boutique store in Harrods and rapid global expansion in the US and Middle East/North Africa (MENA) after it secured a $4.8m (£3.9m) seed round led by Regah Ventures.  
"What we've done at The Edit LDN is looked for roles and opportunities that we can grow in our business – [ones] that we didn't have last year and that are ROI, money-driving roles," Pearson says.
"That's probably what we've done differently to quite a lot of brands that are saying, 'Where can we make cuts?', and we're saying, 'Who can we bring in to drive that forward?''
Pearson gave an example of a new director of fashion who is responsible for "looking at partnerships on a global level and spearheading the personal shopping unit".
In 2022 the personal shopping unit drove around 15% of the businesses' revenue, compared with "this year already delivering 37% of our revenue".
"Just by bringing those key hires in we can drive more revenues from those areas," Pearson added.
Joining her on the panel was Halfords chief information officer Neil Holden and Juniper Networks retail practice lead Jarek Matschey, who both spoke candidly about how retailers can reject the status quo and innovate at speed to thrive during extended periods of instability.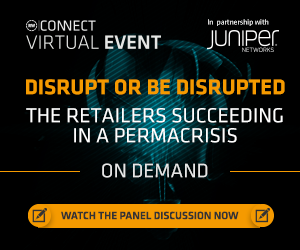 Watch the video to find out:
Which investments will drive profit and what will drain your budget

How to deliver market-leading CX at every touchpoint 

Why equipping staff in stores and warehouses with the best tools matters. 

Juniper leverages 25+ years of innovation and experience in networking to support the network architect, builder and operator experiences with industry-leading insight, automation, security and AI solutions.