Learn where leading brands are investing now to drive innovation across customer experience and supply chain in our new report.
Driverless trucks, shelf-stacking robots and 'virtual fashion' – clothing you buy to 'wear' on social media – all sound very exciting.
But are they really going to move the dial in the next 18 months when it comes to retail?
The answer is almost certainly no. Most retailers must focus on investments with a proven track record of ROI.
The Great Innovation Race is a new report from Retail Week that details the agile investments powering retail right now – and those that are expected to in the next 18 months.
Learn from the likes of Deliveroo, Asos, Burberry, Sainsbury's, Inditex, M&S, Feelunique, Mac and Made.com, as we uncover where retailers will be investing in the immediate future to drive improvements in the customer experience and supply chain.
Data is key
The need to serve customers who could only shop digitally over the past 18 months has forced many retailers to abandon slow-moving transformation and spurred speedy, easy-to-implement solutions.
Underpinning these solutions is data. Brands must grasp their full potential if they are to meet the demands of today's and tomorrow's shopper, as our report outlines.
Pureplay beauty brand Feelunique has opted to continuously improve its online experience and uses customer insight to determine what to change, as we found out.
Chief executive Sarah Miles believes that rapidly innovating and improving the user experience helps to retain customers: "We are getting data from our customers every day, in terms of what they buy and don't buy, how they browse, all sorts of different things, and using that information to make the site better for our customers. We can turn on a dime."
In The Great Innovation Race we delve into how the best retailers are approaching data to bring about meaningful CX advancements as well as impactful supply chain innovations that focus on resilience, flexibility and sustainability.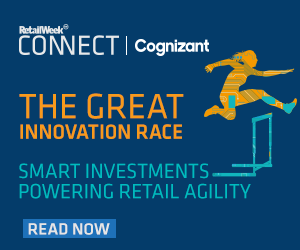 Download the free report, produced in partnership with Cognizant, to find out:
How to make impactful CX improvements now using data and insight
Tech's role in building flexible, sustainable and resilient supply chains
How to build data-centric business models
Examples of retailers leading the way

Cognizant (Nasdaq-100: CTSH) is one of the world's leading professional services companies, transforming clients' business, operating and technology models for the digital era.