Regent Street, owned by the Crown Estate, is rolling out beacon technology and an app to push promotions and information to shoppers.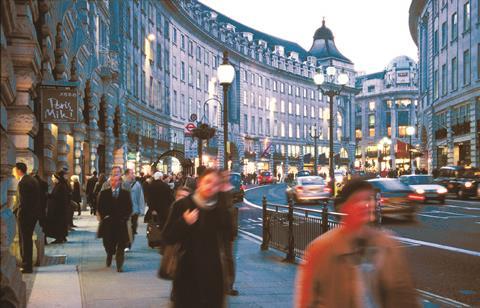 The London shopping street has launched an app that will use beacon technology to send information and offers to shoppers' mobile phones.
Retailers who have signed up include & Other Stories, Hamleys, Hackett, Karl Lagerfeld, Anthropologie, Armani Exchange and Cos.
The Crown Estate joins landlord Hammerson in rolling out beacons, which are often deployed in order to collect shopper data generated by using the app and to draw footfall into stores. They work by sending a bluetooth signal to shoppers' phones and are capable of being more location specific than wi-fi so offers can be sent as a shopper passes by a store.
The introduction of the app is part of the Crown Estate's £1bn Regent Street regeneration programme, which has also introduced brands including Burberry, J Crew, & Other Stories and Karl Lagerfeld to the area.
The app provides shoppers with information about everything from new products and upcoming events to offers only available to those shopping on the street that day.
The app will also build a profile for each shopper so the content received becomes tailored according to what their past use of the app suggests they will respond well to.
The Crown Estate says the app and beacons will help shoppers plan their visit and discover new brands.
Paul Lorraine, UK general manager at Longchamp, which is also participating in the scheme, said: "Success in retail in the 21st century is strongly linked to how you engage your customers in-store and online. Regent Street already has a reputation as being the place to be for brands like ours and the new mobile app will bring the digital and physical together, providing an exciting new way for us to speak to our customers."