Asos, Victorian Plumbing and Zalando are top of the productivity leaderboard, Retail Week's new report reveals.
The UK's Top 30 Most Productive Retailers, produced in association with ServiceNow, has been compiled using sales and staff cost figures from 2021 from 180 UK retailers.
Who made the list?
The ranking highlights interesting broader trends that continue to play out in 2023.
Etailers are strongly represented, for instance, with 13 out of 30 entrants being pureplays.
"Etailers have the advantage of having lower overheads, with no shopfloor employees. This improves their productivity ratio when compared to those with stores," says Retail Week Prospect analyst Hanna Hua.
Even a few of the best-performing multichannel retailers, such as homeware retailer Loaf (11th) and fashion retailer End Clothing (13th), are online-led businesses with a few carefully selected stores supporting digital sales. This makes for a more likely productive model than retailers with large legacy store estates, which may be in the process of closing stores and rightsizing their estates in a bid to cut costs and focus on the most profitable and productive stores.
How did Asos come out on top?
Launched: 2000
Employees: 3,017
Group sales: £3.94bn (2022) +0.7%
2021/22 group staff costs to sales ratio: 4.1
There is no avoiding that Asos has had a difficult time of late — swinging into the red in 2022, forcing the launch of a turnaround strategy — but noted in the introduction to this report, growth and productivity do not always head in the same direction.
Despite its challenges, Asos has also enjoyed some significant wins over the past 12 to 18 months. For a start, its acquisition of collapsed Arcadia brands Topshop, Topman and Miss Selfridge in February 2021 has proven something of a masterstroke. Sales across the Topshop brands surged 105% in 2022 (full year), which helped to boost growth in a difficult year. Sales also grew more than 200% in the US, supported by Asos' successful wholesale partnership with American department store chain Nordstrom.
Just 300 staff (of many thousands) transferred to Asos as part of the £330m deal, suggesting this growth came at relatively low cost and potentially helping to boost Asos' productivity performance.
Asos has also invested in technology to help reduce costs surrounding the trickiest parts of the online fashion purchasing journey, such as returns, focusing on fit technology in an attempt to lower the volume of items sent back.
Eight images of the same dress on different size models
Zeekit's tool helps customers decide whether a purchase it right for them by displaying outfits on 16 different body shapes
It uses augmented reality from Israeli firm Zeekit to provide customers with an image of their choice of product on 16 virtual models of varying body types. It has also used AR technology from HoloMe in its mobile app, offering a virtual catwalk experience for 200 of its own-brand products, also aimed at helping to reduce returns.
While Asos' productivity performance is clearly strong, the measures it is taking to tackle its current problems could boost it further. Hit by the shift back to in-store shopping, and further impacted by supply chain issues, high return rates and the cost-of-living crisis, Asos swung into the red in the year to August 2022, with profits plummeting 105% — it posted an operating loss of £9.8m on group revenues that edged up 0.7% to £3.94bn.
In response, chief executive Jose Antonio Ramos outlined a plan that included tighter stock management and reduction of costs. The business is removing 35 unprofitable brands from the platform by the end of the first half of 2023, rationalising office space and reducing staff costs by 10% through staff cuts.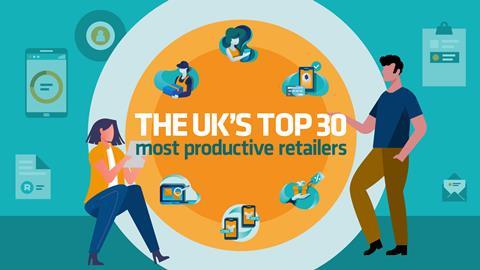 How do retailers and brands supercharge their productivity?
Access this report for free today, and you will learn:
The strategies underpinning productivity at Asos, Victorian Plumbing and Zalando
How this translates for multichannel businesses such as Tesco and Frasers Group
Which investments retailers are prioritising to bolster productivity
Don't miss out on this strategic blueprint to help transform your business