A major new report for Retail Week, Beyond the Hype, produced in partnership with Braze, explores how artificial intelligence (AI) has moved from the margins for retailers and is now generating real ROI and solving some of the industry's biggest headaches.
Exploring the strategies of 18 global retailers, with exclusive insights from industry experts, the report takes a deep dive into how AI technologies are transforming the industry and how retailers should be leveraging them to best effect.
Ocado Group: AI-driven supply chain
Ocado Group, made up of tech company Ocado Solutions and grocer Ocado Retail, has embedded AI throughout its value chain to both improve operational efficiencies and customer engagement across the board.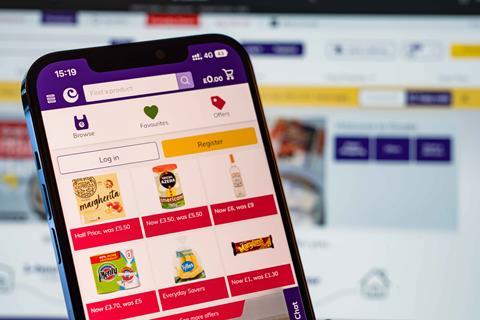 For customers, AI is integrated seamlessly into purchase journeys, primarily via personalisation. Favourite items and previously purchased items appear first in searches and reminders are sent out for items purchased most often, such as milk and other staple groceries.
AI's functionality enables Ocado to boost customer experience and loyalty, making it seamless and easy to repurchase.
Behind the scenes, AI-enabled forecasting helps the company reduce stock waste levels. The retailer claims these are as low as 50% below industry norms, with predictions of future stock levels resulting in higher availability and lower substitutions for customers.
These are both plus points for Ocado shoppers, who also benefit from a wider breadth and diversity of products available than its multichannel rivals could offer, owing to its streamlined supply chain without a store network.
The group has also committed extensive investment into AI-driven robotic picking solutions and autonomous deliveries, further bolstering its supply chain.
Access more information on Ocado's AI strategy by downloading the report here
Charlotte Tilbury: AI-bolstered customer experiences
Beauty retailer Charlotte Tilbury announced the launch of a mobile app, harnessing the power of AI and deep learning to boost customer engagement, in June 2023.
Delivering personalised beauty solutions, educational and inspirational resources, and incentives for new and existing customers, the app offers several AI-driven tools to enhance and streamline online shopping.
The tech is aimed to help customers choose products that traditionally they would first test in store before committing to a purchase: skincare, foundation and concealer.
Customers answer just three questions and upload a selfie to make use of the brand's Pro Skin Analysis tool, which then offers a personalised skincare routine and expert advice in under 60 seconds. Its Pro Shade Match tool uses an "expert skin algorithm" alongside AI to make shade matching easier and more accurate when ordering online.
Beauty-tech engagement isn't new to Charlotte Tilbury customers, making this a natural next move for the brand.
Its virtual store, launched in 2020, gained a new feature in April 2022 when a 3D volumetric avatar of Tilbury was added to guide customers through the store. The brand claimed this made it the "first beauty brand to harness mixed-reality technology" and supplemented several other engagement features to keep customers engaged on the site for longer.
Shein: AI-powered product development
Fashion pureplay Shein is investing in social listening and, with 30.5 million followers on Instagram and 8.4 million on Tiktok at the time of writing in October 2023, its customers would expect nothing less.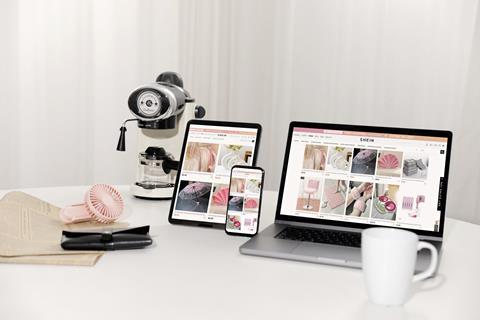 To ensure on-trend styles can be brought to market quickly, the brand uses an AI engine to pick up changes in demand and interest, allowing its supply chain to react in real time.
For the etailer, an iterative process, harnessing relevant, accurate data alongside the insight of humans is essential. AI is used to analyse data, including web searches and social mentions, which is fed back to the brand's designers to drive product development.
Through employing a test-and-reorder model, the retailer orders small batches of items per style to see how they perform before committing to designs, allowing for a vaster range of on-trend styles to be made available for customers without creating excessive inventory waste.
According to Shein, this bolstering of data means the retailer's unsold inventory level is now less than 10% compared with an industry average of between 25% and 40%.
Want more insights into the AI strategies of leading retailers?
Download your free copy of Beyond the Hype: How AI in UK retail has moved to the mainstream today.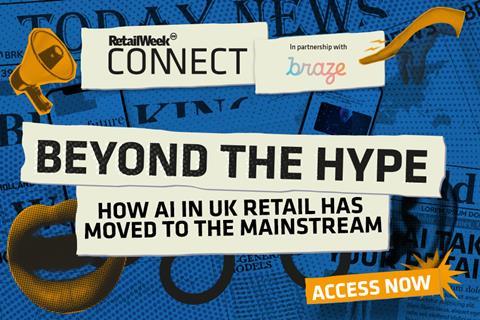 You will also discover:
Why AI is here to stay – analysing AI's current and future impact on retail
How to seize the opportunity – how retailers from The Very Group to Charlotte Tilbury are seeing real ROI
Identifying the challenges – how to strategise to avoid the pitfalls
Maintaining balance – how to get AI implementation right for your workforce

Braze is a leading comprehensive customer engagement platform that powers interactions between consumers and brands they love.
View full Profile