Spanish department store group El Corte Inglés has created an app that will allow its Portuguese shoppers to browse virtual shopping aisles.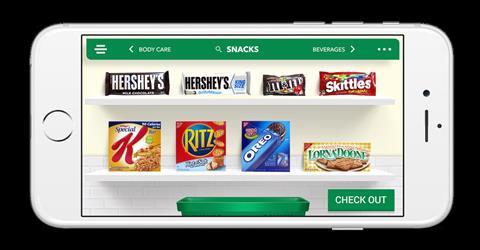 El Corte Inglés hired Grability to recreate the in-store shopping experience on mobile devices for its Portuguese business.
It aims to give consumers an "intuitive" grocery-shopping experience on mobile devices, offering virtual aisles, interactive shelves and scales, and a drag-and-drop shopping feature.
The platform offers the option to collect shopping from a local branch or have it delivered.
The virtual shopping experience is also designed to allows a more relaxed and "non-invasive" style of online marketing of products.
Online merchandising
Grability has partnered with companies including Coca-Cola, Unilever, P&G, Heineken, Oreo, Pernod-Ricard, Colgate-Palmolive, Johnnie Walker and Wrigley to help improve their online merchandising.
At present only 1% to 3% of FMCG sales are from online transactions and a "fraction" of these are from mobile devices, according to Grability.
It believes it can help retailers increase FMCG ecommerce sales to 10% by bringing the in-store experience to mobile devices.
El Corte Inglés has tested the technology in Spain and says it has recorded a "surge" in mobile grocery sales.
Pedro Barbosa, the head of digital at El Corte Inglés' Portuguese business, said: "It's exactly the kind of innovation we love to see – one which directly serves our customers by radically improving the shopping experience."
Fashion retailer Ted Baker recently worked with virtual reality specialists Avenue Imperial to launch a similar service depicting its new Ted Baker & Moore store.