Technology giant Apple has revealed pricing for its much-anticipated Apple Watch device, available to customers around the world from April 24.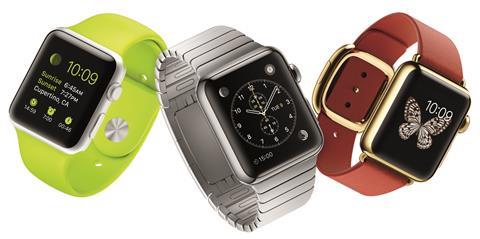 The latest addition to Apple's family of products will allow iPhone users to receive phone calls and make contactless payments using the wrist-worn device.
Using Apple Pay, wearers of the smartwatch could tap or wave their device over a compatible point-of-sale terminal to buy items. But Apple Pay is still only available in the US.
Apple also demonstrated that the watch could be used to open hotel rooms instead of key cards, check a song using the Shazam app, board a plane, or ask Siri for directions.
Apple said a number of developer communities have been creating new applications specifically designed for Apple Watch: "From requesting an Uber, checking in to your American Airlines flight, booking a bike for your Equinox class, to remotely controlling your Honeywell Lyric thermostat while away, the possibilities for Apple Watch apps are endless."
The Apple Watch will be available to customers in Australia, Canada, China, France, Germany, Hong Kong, Japan, the UK and the US from April 24.
Prices will range from $349 (£231) to upwards of $10,000 (£6,626) for timepieces created from gold.
"Apple Watch begins a new chapter in the way we relate to technology and we think our customers are going to love it," said Apple boss Tim Cook. "We can't wait for people to start wearing Apple Watch to easily access information that matters, to interact with the world, and to live a better day by being more aware of their daily activity than ever before."