Apple has unveiled its first smatwatch device and is predicting it will revolutionise the category, which has failed to take off until now.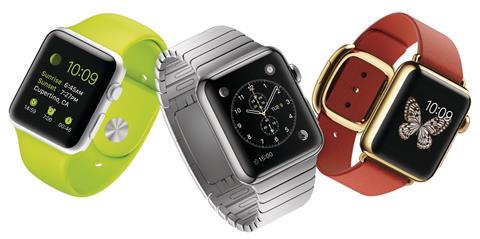 The tech firm is calling the Apple Watch its "most personal device ever" with a design that aims to "honour the rich tradition of precise watchmaking".
Apple chief executive Tim Cook unveiled the smartwatch yesterday alongside the company's new iPhones, which for the first time will come in two sizes and include near field communication (NFC) technology.
Cook said: "Apple introduced the world to several category-defining products, the Mac, iPod, iPhone and iPad. And once again Apple is poised to captivate the world with a revolutionary product that can enrich people's lives. It's the most personal product we've ever made."
The Apple Watch will allow users to send and receive messages, answer calls to an iPhone and with the Digital Touch feature people will be able to send details as personal as their own heartbeat.
NFC technology being integrated into the iPhone has allowed the tech firm to introduce Apple Pay, which will allow shoppers to pay securely for physical goods and services in stores or apps "with just a touch of a finger".
Shoppers can pay for goods in store by holding the phone near the contactless reader while holding a finger on Touch ID without any need to unlock the iPhone or launch an app.
Apple Pay also allows users to make one-touch purchases within apps without needing to enter credit card or shipping information and Apple has reassured users that all payment information will be kept private, encrypted and stored securely.
Apple's smartwatch is available in three different styles including Apple Watch, Apple Watch Sport and Apple Watch Edition.
Apple senior vice president of design Jony Ive said: "With Apple Watch, we've developed multiple technologies and an entirely new user interface specifically for a device that's designed to be worn.
"It blurs the boundary between physical object and user interface. We've created an entire range of products that enable unparalleled personalisation."