US home improvement giant Lowe's has developed robot shop assistants that it is piloting in one of its hardware stores.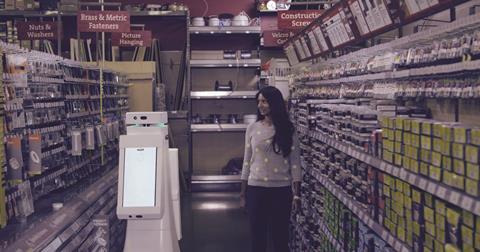 Lowe's will test the robots, known as OSHbots, in a San Jose branch of its Orchard Supply Hardware business as part of efforts to improve service in stores.
The robots have been developed by Lowe's Innovation Labs, in partnership with Fellow Robots and Singularity University, and can check whether items are in stock and guide customers to where the products are located in-store.
Shoppers can use a touchscreen to select products, 'show' products they are looking for by passing an example in front of a 3D scanner or speak to the robots, which can communicate in a variety of languages.
It is also possible to connect to human advisers via the robots.
Lowe's Innovation Lab executive director Kyle Nel said in the above video that shows the robots at work: "Retail really hasn't changed much in the last couple of hundred years.
"The robots are the first thing that can really change the customer experience. It's a wholly different experience from anything in retail right now."
He said that the robots are not seen as a replacement for shopfloor staff and told magazine Advertising Age: "What our sales associates are amazing at doing and what they love spending time on are consulting and helping customers with their projects and solving problems.
"We can let the robots answer questions like 'where are the hammers?'"