PAID FOR POST
The Hermes Supply Chain Blog on Retail Week
Sainsbury's is using bicycles and an app service to bring busy customers in the capital their grocery orders in a super-speedy time.
The grocer started trialling the one-hour delivery service, Chop Chop, in Wandsworth, London earlier this month. Shoppers can download the Chop Chop app and order products from the Wandsworth store that are immediately picked and delivered to addresses within a 3km radius.
I'm sure many would baulk at the service. How lazy do you have to be to order your groceries from a store a short walk away?
However, I can think of many situations where the service could be a lifesaver: You have friends coming over for dinner but mid-way through cooking your boeuf bourguignon you discover you're missing some vital ingredients – or, worse still, the wine!
You're working late at work and realise you're coming home to an empty fridge. Or you have two small children at home and rallying the troops to go to the supermarket is too daunting a mission.
Sainsbury's bicycles aren't the only ones weaving through the traffic-laden streets of the UK's busiest cities. Posh fast-food delivery firm Deliveroo is expanding rapidly. This is testament to the fact that customers are prepared to pay for the convenience of meals delivered speedily to their door. The same surely applies to their groceries.
Of course, bicycle delivery is not a new phenomenon – in fact, it's rather retro. However, busy metropolises around the world have turned to bikes to beat the gridlock. In China, for example, bicycles and three-wheeled motorbikes are piled high with parcels in order to deliver goods in congested cities such as Shanghai.
So rather than using Uber, or even drones, to carry out speedy urban delivery, perhaps more firms should go back to the trusty push bike to weave through the traffic-laden streets of London or Manchester.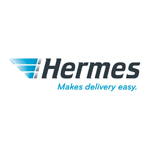 Hermes' vision is to be the carrier of choice for every end customer in the UK. The company currently delivers parcels on behalf of 80% of the country's top retailers and etailers.