Morrisons-owned nursery retailer to open national chain of destination stores in multichannel push.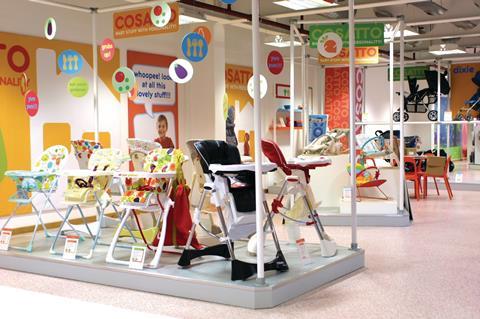 Morrisons-owned multichannel retailer Kiddicare is developing plans to open a nationwide chain of 45,000 sq ft non-food superstores as it aims to further tap into the lucrative baby and maternity market.
The multichannel retailer – which was acquired by Morrisons for £70m earlier this year – hopes to have the first new store open by the end of 2012. It is looking for sites either within or outside major urban areas such as Bristol, Manchester, Leeds and Glasgow, but has not yet decided where the first new store will be located.
Kiddicare chief executive Scott Weavers-Wright, who is also managing director for non-food online for Morrisons, told Retail Week the grocer is very supportive of the move.
Weavers-Wright believes the business could grow exponentially with the launch of more destination stores at a time when main competitor Mothercare is struggling in the UK. He is hoping to emulate the success of his Peterborough showroom, which is on the same site as his distribution centre and turns over £10m a year.
He has yet to decide whether the stores should be within town centres or out-of-town, but says that it is crucial there is parking available for customers who he expects to travel to what will be destination stores.
The Peterborough store attracts customers who drive for up to three hours to visit, and includes a 100-seat restaurant and play area to make the store as family-friendly as possible.
Kiddicare turned over £37.5m in the year before it was acquired and Weavers-Wright said sales are still growing at a rate of between 18% and 20% year on year each month at present.
He is keen for the stores to offer a true multichannel experience for customers, both through the technology in use and services offered. He said: "We have to get the proposition right. Will it have services, offer ultrasound scanning or doctors, etc, if these are to be destination stores?"
He also wants to offer store visitors easy access to all of the content and services that are available to web customers: "We will power ahead with video in-store, either on kiosks or digital signage. I want to provide easy access to ratings and reviews, demonstration videos, social videos, inventory information, and ordering and home delivery of product." 70% of customers use the 30 kiosks installed at the Peterborough site, either to order products to collect on the day, or for home delivery.
Kiddicare will also have 30 kiosks live in Morrisons stores in a proof-of-concept trial by the end of October and Weavers-Wright says that if they prove successful he hopes to roll-out 1,000 kiosks to Morrisons' existing 440 stores.