Retail footfall overall declined in January but out-of-town locations bucked the trend as shoppers sought big-ticket items.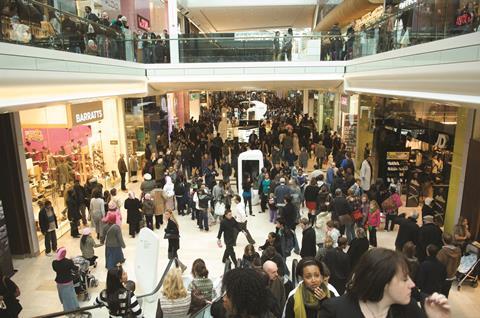 Total footfall over the month was down 1.2% year on year, the BRC/Springboard Footfall and Vacancies Monitor showed.
Shopping centres suffered the brunt of the decline as footfall slipped 2.8%, while high street footfall was down 1.6%.
However, out-of-town footfall was up 1.5%, which BRC director-general Helen Dickinson said reflected improved consumer confidence.
She said: "More of us are happier to splash out on big-ticket items, particularly furniture, which we usually travel out of town to view and buy."
She believed that online shopping, often strong in January, was a likely factor in the poor performance of high streets and shopping centres.
In the period between November 2014 and January 2015 the average footfall decline was 1.4%.
High streets were down 2.4% over the three months and shopping centres 1.5%. Out-of-town locations were up 1.2%.
The town centre vacancy rate stood at 10.4% in January, which was slightly up on the 10.3% recorded in October last year.
Dickinson said: "Rising numbers of vacant shop units are still a cause for concern. We have welcomed the Government's pledge to review business rates, however, in order to make a real difference the review will need to be wide in scope and seek radical solutions."