PAID FOR POST
More voices from the retail industry
With excellent customer experience now the formula for retail success, Zendesk's Eric Jorgensen discusses why AI could be the ultimate colleague in delivering this.
Customer experience teams in the retail industry are only getting busier. Customer engagement is up 14% compared with last year and 61% of customers say they now have higher service standards, according to Zendesk's latest CX Trends report.
The pressure is only set to increase for retail service teams, but as we adjust to a recession and face cost-cutting decisions, businesses will be looking to invest in tools with the biggest ROI.
Artificial Intelligence (AI) is proving to be the ace in the hole for companies looking to manage higher engagement, all while keeping customers satisfied by providing excellent experiences.
Deep personalisation
Deeper personalisation builds trust and lasting relationships. Data and machine-learning algorithms can be used to understand individual customer preferences, buying patterns and behaviours.
This is the level of knowledge consumers also expect from the brands they interact with – 76% of consumers expect anyone they are interacting with at a company should easily have access to past purchases, context from interactions and other information provided.
For retailers, this information can be used to provide product performance insights and targeted marketing campaigns, making customers feel seen and connected to their favourite brands.
Retailers are increasingly seeing the value of providing deep personalisation, with 72% of leaders stating they will increase their budget on personalisation in relation to customer experience over the next 12 months.
Data-driven efficiencies
Artificial Intelligence provides a tool for retailers to optimise efficiencies. In fact, 62% of UK leaders believe AI/bots will drive large benefits, not only from a cost-saving perspective, but also by freeing up workers' time and allowing them to focus on more complex tasks.
By sourcing data from across the business and creating a 360-degree view of operations, AI can reveal where retailers need to focus their resources.
For example, AI can assist with restocks by monitoring supply chains, ensuring that products are delivered to stores in a timely and efficient manner. This can prove invaluable during busy holiday peaks.
For customers, this creates a clear picture of where their items are, when they'll be available and how to plan their purchase accordingly.
Looking at the bigger picture, we know that in recent years there's been a global focus on minimising unsold goods and laws have even been put in place to ensure excess stock is handled sustainably.
This is where AI can help with stock management and forecasting, helping retailers to optimise inventory levels and minimise wasteful unsold goods. This not only supports retailers' ESG initiatives, but customers will see a company that cares about tackling the climate crisis.
AI is the ultimate colleague
While AI offers great advantages, like speed or the ability to serve multiple customers at once, it cannot handle the emotional situations that make customer service agents unreplaceable.
This exciting technology is designed to complement human efforts, not replace them completely.
For example, one of the biggest benefits of AI in customer service is its 24/7 availability. With AI, customers can receive answers to their questions at any time, without having to wait for an agent to become available.
This is particularly beneficial for customers who need assistance outside of normal business hours.
The increased investments in AI haven't gone unnoticed by consumers, who have become increasingly comfortable with its presence. Of those who interact with customer service bots on a regular basis, 72% reported improvements in quality.
Digging a little deeper, those same consumers overwhelmingly state that bots perform well when answering simple inquiries, respond faster than human agents and can be relied upon to surface accurate, helpful information.
With all the benefits of AI in mind, surprisingly, 64% of UK business leaders feel their organisation is lagging in this department. This means we can expect to see retailers increasing investments in this technology over the next few years, making the impact of AI on this industry one to watch.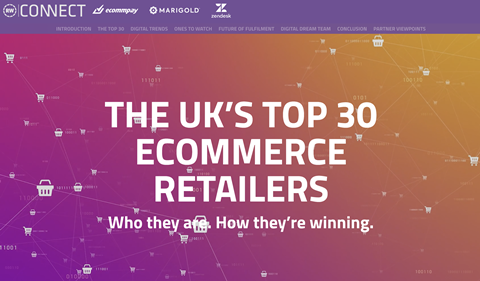 Online retail sales are at their lowest point since January 2021. Store footfall is rising. Market conditions are more challenging than ever. How can retailers fight against the tide to make online work for them?
Look no further than our illuminating new report The UK's Top 30 Ecommerce Retailers.
In a Retail Week first, the report features an exclusive ranking of the UK's 30 biggest ecommerce retailers by FY2022 forecast online sales as compiled by our analyst team.
It also features a retrospective of online sales for FY2021 and predictions for FY2023 and FY2024.
Access the report for free today to view the ranking and take a deep dive into the ecommerce strategies of the top 30 to truly understand what is working.
You will also discover:
The digital innovations the top 30 are investing in to maintain online market share
Ones to watch – a secondary ranking of newer retailers, heritage brands and surprise names with online sales on the ascent such as Sosandar, Loaf and Fenwick
What it takes to build a winning digital dream team
The top five solutions to crack ecommerce fulfilment and returns in 2023
Eric Jorgensen is VP Enterprise EMEA at Zendesk

With Zendesk, Retailers can deliver seamless omnichannel experiences and AI-powered self service that fits their brand. Agents get powerful, in-context workspaces and unified knowledge management for personalized service. All with an open platform, integrated into your entire ecosystem for a complete view of your shopper. Find out more at https://www.zendesk.co.uk/retail/