PAID FOR POST
More voices from the retail industry
Zara, Boohoo and New Look made headlines when they started charging customers for returns, but this isn't a decision to be taken lightly as James Hepher, lead consultant at Newton Europe, explains
Desperate times call for desperate measures, and when retailers start charging customers for returns during a cost-of-living crisis – on top of product price increases – you know the cost of returns has reached crisis point.
But, for many retail executives, returns is one of those perennial issues they know is a problem but they have come to tolerate – not because it should be tolerated, but because the true cost of returns is hidden in the P&L.
A lack of ownership of returns within the business makes it harder to see the challenges and where the biggest costs and opportunities lie.
Charging for returns sends a powerful message to customers: please stop buying things you know you won't keep (e.g. to wear once on Instagram or to reach a free delivery threshold). But is it the smart solution for every retailer? Is it worth the potential loss in sales?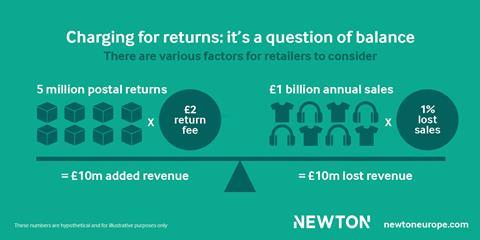 For example, as the above image shows, if you take a typical large retailer with 5 million postal returns a year and it decides to implement a £2 charge per parcel, it could expect to generate up to £10m in additional revenue.
However, if we assume annual sales of £1bn, then even a 1% reduction would quickly eradicate the business case.
A much-needed wake-up call
The announcements from Zara, Boohoo and New Look that they were starting to charge for returns didn't trigger the domino effect that some people might have expected. But it has given us a much-needed wake-up call for retailers to understand the root causes of returns and decide how they can reduce the number of regretted returns without damaging customer value.
Some retailers are listening to this siren and have, for example, put their data under the microscope to decide whether or not they should jump on the charging bandwagon, and chosen not to.
Looking at your end-to-end returns data in this way – particularly in relation to your returns proposition and policies – can also reveal a number of attractive alternatives to returns fees.
For example, it might highlight which returns channels are the most cost-effective and which ones aren't delivering enough value to justify their costs, enabling you to streamline your offer.
Key considerations
When it comes to thinking about returns fees, here are three things to consider:
What does the data tell you? Gain a comprehensive understanding of how returns volumes and sales propensity are likely to shift prior to implementing a new fee. Is it worth the risk?
Influencing customer choices: If your data shows that some returns channels are more cost-effective than others and you've decided to start charging for returns, you may want to follow in the footsteps of Zara (which offers free returns in store only) and consider some exceptions to the rule – in order to nudge people in this direction.
Revamping your proposition: Some retailers, like Boohoo, are offering a subscription model that includes things like next-day delivery, exclusive discounts and, crucially, free returns. This turns what could be seen as a penalty or unwelcome cost into a new value proposition and makes loyal customers feel more engaged.
Read our whitepaper Returns plc: The Biggest Supplier You Didn't Know You Had for five new ways to reduce the cost and maximise the value of returns in retail.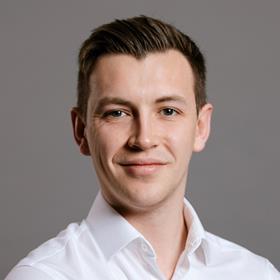 James Hepher is a lead consultant at Newton Europe
James Hepher helps major retailers to realise significant cost reduction and revenue enhancement through a wide variety of strategic programmes.
His experience includes helping a national retailer to better operationalise its category strategies, manage range performance, execute on a new pricing strategy and procure the right volume of stock to maintain availability.

Newton Europe is a UK-based specialist in operational improvement. We design and embed change programmes that deliver greater and longer-lasting value than any other consultancy.
View full Profile