PAID FOR POST
More voices from the retail industry
Technology has a major role to play in making the planet more sustainable and helping retailers achieve their sustainability goals, writes Paola Olivari, Account Director at Google Cloud
This year has brought on many changes and challenges in our daily lives. Our collective attention on climate change, ecological damage and waste is at an all-time high.
One change that has become more prominent is around the need for sustainability – things cannot continue as they currently are. Our data highlights three-quarters of the public agree future generations are in jeopardy if we do not change the way we live in the next 10 years.
Food systems are particularly complex and challenging from a sustainability perspective. A third of all food produced for human consumption, around 1.3 billion tonnes, is wasted every year – emitting potent greenhouse gases as it decomposes.
According to the Food and Agriculture Organization of the UN, agriculture is responsible for 20% of total human-related greenhouse gas emissions globally. In the UK, soil is currently being destroyed 10 times faster than it is being created and the agri-food sector is responsible for approximately 20% of the UK's overall consumption-related emissions.
But it's not just food wastage and agriculture contributing to the environmental crisis. Demand for last-mile delivery is growing exponentially, with the World Economic Forum predicting demand for urban last-mile delivery will increase 78% by 2030. And without serious, effective change, delivery-related carbon emissions could increase by more than 30% in the world's top 100 cities over the next 10 years.
Thankfully, there is a lot we can do now. And technology has a major role to play in making the planet more sustainable for everyone.
Technology that helps the planet grow
Harnessing technology is more than just implementing efficiency, reducing operational costs and growing business faster. Building technology that helps us do more for the planet is in everyone's self-interest.
Carrefour, one of the largest grocery retailers in Europe, has partnered with Google Cloud in developing a produce assortment recommendation that allows store directors the autonomy to regulate levels required and ordered for their store.
This has resulted in a more personalised selection at store level, greatly reducing the amount of produce wasted and ensuring customers have timely access to the items they want.
At Google, we've developed a robust programme aimed at reducing food waste. Our chefs believe a carrot is more than just a carrot – it's the opportunity to cook from root to stem and use as much as possible in every meal.
In 2015, we started using our AI to track food waste in a few of our cafes in the San Francisco Bay Area. We brought insights into action: through a combination of using food in a more measured way, finding ways to reimagine leftovers and donating unused food, we saved 440,540 pounds of food from going to waste.
Five years on, Google's food team has expanded its efforts – tracking food in cafes around the world to prevent 9.2 million lbs of it being wasted.
Utilising technology has also helped the fashion industry become more environmentally friendly.
WWF Sweden joined Google to create an environmental data platform that enables fashion houses to make more sustainable sourcing decisions.
With big-data analysis, machine learning and Google Earth Engine satellite imagery, data has supercharged WWF's ability to assess raw materials to make supply-chain data visible and accessible to decision-makers, driving more responsible and sustainable decisions.
Consumers: the driving force behind change
Research shows consumers increasingly expect brands to lead the way towards "destination zero" – a world where humans have zero impact on the planet.
Across the UK we've seen a marked increase in sustainability-related searches in the past 12 months alone. Searches on Google for sustainable diets have increased by 37%, while searches for carbon neutrality have increased by 90% and food waste by 89%.
This is starting to translate into how consumers are choosing to spend their money. Some 72% of consumers believe businesses have a duty to pressure suppliers to reduce their impact on the environment.
From fair working conditions to environmentally friendly supply chains and avoiding harmful ingredients, sustainability factors impact nearly two-thirds of consumers' purchasing decisions in the UK.
Technology that helps your business grow
As consumers' awareness and concern around sustainability issues continue to grow, and they flex their spending power accordingly, retailers need to ramp up their sustainability efforts. Not only to remain competitive and meet consumer demand but for the health of our planet as well.
We are committed to working with brands, food manufacturers, consumers and technology providers in continuing the journey towards sustainability in the food and grocery industry. Together, we can support consumer expectations and create positive change.
To find out more about how we can help your business and the planet grow, download our new sustainability playbook.
Source: 2020 Google Cloud, The role of technology in a sustainable food system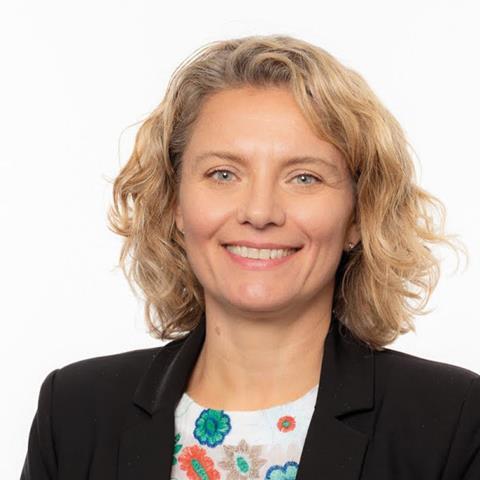 Paola Olivari is an Account Director for Google Cloud in the UK & Ireland
Paola has more than 10 years' experience as a business leader in the technology sector. She is passionate about helping customers drive value from technology and enjoys introducing Google's culture of innovation to other organisations.
She is an advocate for technology and its power to transform and reinvent customer experiences, business processes and human interactions. Paola is passionate about sustainability and serves as chair for the Google Grocery Sustainability Community in the UK, having also served as a trustee of Plan Zheroes, a charity helping to tackle food waste and food poverty in the UK.
Paola holds an MBA from the University of Cambridge and an MSc in Industrial Engineering from the Politecnico di Milano.

Google Cloud provides organisations with leading infrastructure, platform capabilities and industry solutions. We deliver enterprise-grade cloud solutions that leverage Google's cutting-edge technology to help companies operate more efficiently, sustainably and adapt to changing needs, giving customers a foundation for the future. Customers in more than 150 countries turn to Google Cloud as their trusted partner to solve their most critical business problems. For more information, visit: https://cloud.google.com/ https://sustainability.google/