PAID FOR POST
More voices from the retail industry
With Black Friday and the Christmas period on the horizon, retailers will be gearing up for a surge in consumer spending, says Brian Flesk, head of retail at Hitachi Capital Consumer Finance
Consumers want the ease of shopping from their sofa as well the security of an in-store purchase. Both in-store and across ecommerce platforms, the expectation is for a fast, seamless customer journey whatever channel they choose to purchase through, putting greater onus on retailers to provide a frictionless and interactive experience.
Meeting the surge in demand
The challenge is to convert increased consumer demand into sales within a highly competitive market. Ensuring you have the right tools in place is vital, which is where point-of-sale finance comes in.
Offering POS finance solutions for high-value items with simple and straightforward payment terms can play a huge role in converting browsers into buyers. Our research shows that 55% of customers cite finance solutions as a key reason for completing a purchase. Moreover, Hitachi Capital data shows 43% of customers spend more on big-ticket items when finance is available at the point of purchase.
During the golden quarter and beyond, this approach will attract more consumers, increase conversions and spend, and provide a great customer journey.
An omnichannel future
We have seen a seismic shift in buying behaviour as consumer habits have increasingly shifted online. Many consumers explored new categories, brands and retailers for the first time online during lockdowns and confidence has grown in making digital purchases.
The benefit of funding solutions is clear for those building an online presence. Over the past 12 months, we have been onboarding more retailers than ever as demand surged for our ecommerce solutions. This significant growth was down to the fast, seamless integration, creating a 24/7 retail offering, with improved credit decisioning functionality, the ability to process deposits on behalf of retailers, and fully integrated soft search.
The retail world is changing and so are we
It is not just the retail word that is repositioning itself. Our business is also embarking on a major rebrand, setting our sights on rapid expansion and accelerating investment in our retail systems.
The rebrand to Novuna Consumer Finance, which will be fully implemented by March 2022, paves the way for us to respond to the huge upheaval our retail customers have faced over the past two years.
Brian Flesk is head of retail at Hitachi Capital Consumer Finance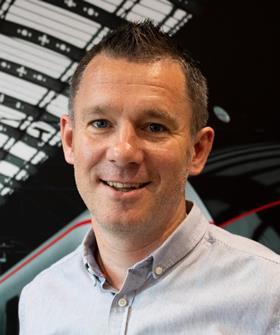 Brian Flesk leads the retail point-of-sale finance business at Hitachi Capital Consumer Finance, overseeing the relationship management with more than 3,200 high street and online retail partners. He has been instrumental in implementing the digital transformation of the business, responding to the seismic shift in buying behaviour that has transformed the industry in recent times.
With a distinguished career spanning 20 years in financial services, before joining Hitachi Capital Consumer Finance, Flesk worked previously for Barclays and Premier Legal Funding.


Hitachi Capital Consumer Finance, a division of Hitachi Capital (UK) PLC, provides more than £1.7bn of consumer lending to more than 1 million customers each year. As the UK's leading provider of retail point-of-sale finance, the business works with more than 3,200 retailers from high street brand names to niche online ecommerce retailers, providing fast, flexible finance solutions that integrate into all channels.