Farfetch has topped Retail Week's annual growth retailer ranking for the third consecutive year, leading a top 10 dominated by digital-first businesses.
The UK's Top 30 Growth Retailers 2019, published today and produced in association with Google, features exclusive Retail Week research ranking the retailers that have generated the fastest-growing sales over the past three financial years.
New for 2019, the list has been extended to include both privately owned and publicly listed companies registered in the UK, with sales of at least £25m in their latest available accounts, to provide a more comprehensive view of the market.
And this year's ranking paints a vivid picture of those businesses achieving growth through successful digital transformation.
The top 10 retailers by year-on-year group revenue growth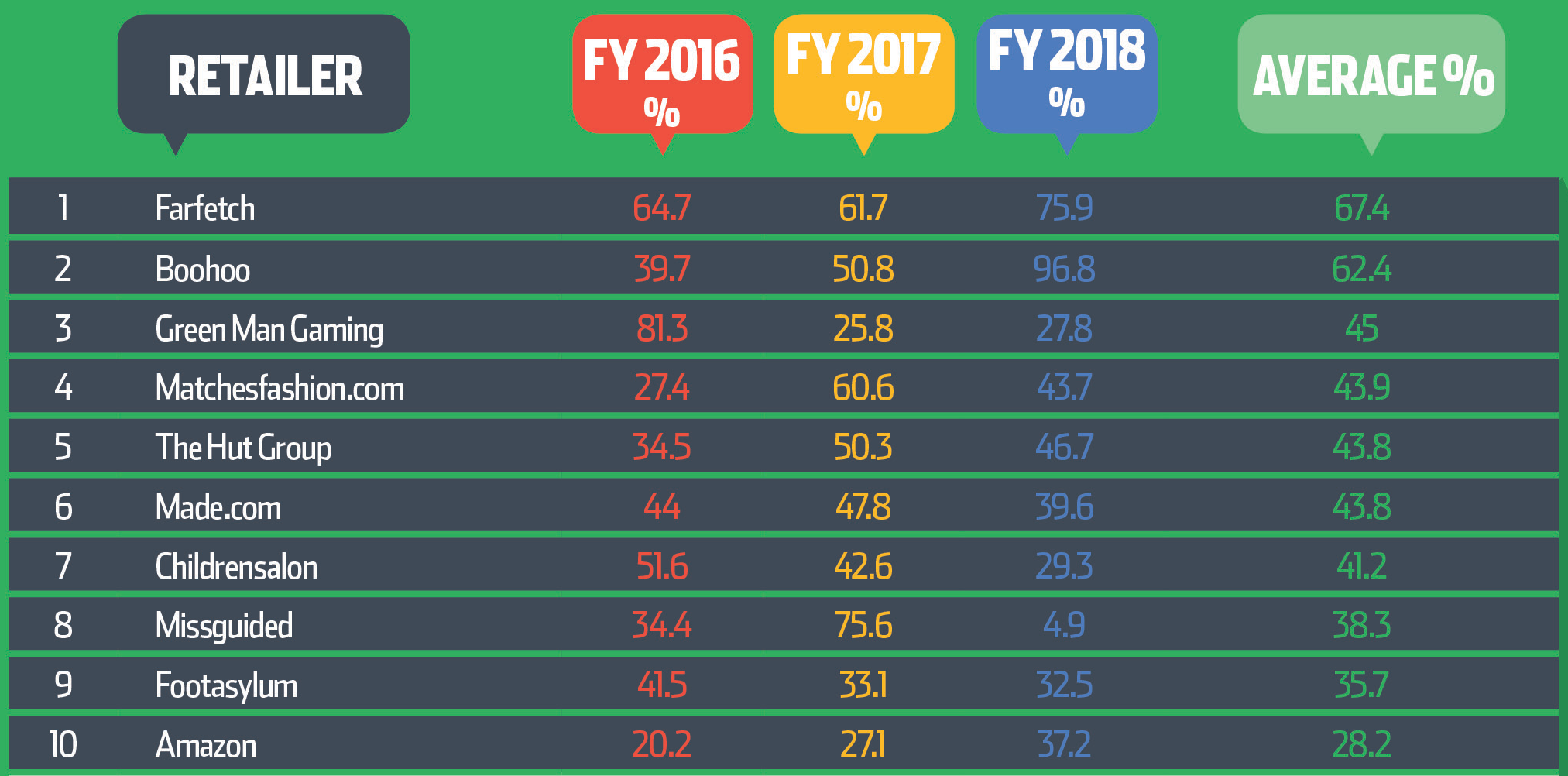 The future is digital
This year's top 10 is dominated by digitally led retailers, with Farfetch followed by Boohoo, Green Man Gaming, Matchesfashion.com, The Hut Group, Made.com, Childrensalon, Missguided and Amazon. Footasylum is the only store-first retailer in the top 10.
These digital-native retailers are in step with the changing requirements of their digitally enabled consumers and able to react quickly to changing market pressures.
Alongside Footasylum, those retailers within the top 30 that do have stores, such as Flying Tiger Copenhagen and Joules, have created innovative experiences to drive the most value from bricks and mortar.
Data insight delivers growth
Cementing its position in first place, Farfetch this year appointed its inaugural chief data officer, Kshitij Kumar, while simultaneously adding chief brand officer to Browns chief executive Holli Rogers' responsibilities.
Farfetch chief executive and founder José Neves said of the hires: "They reflect the importance of our strategic priority to build our brand, blending both the art of building a fashion brand and the science involved in building world-class, data-driven, demand-generation capabilities."
Using data to propel growth is a common theme. In second place, Boohoo has used customer analytics to personalise its on-site experience. Similarly, Feelunique – ranked in 17th place – uses data to track and understand behaviour, and inform improvements to its on-site service and experience. It also leverages data to offer new developments, such as Apple Pay, based on insight into which web browser its customer uses.
"The use of data and the impact it has on the relationship with customers has shifted dramatically in the last two years"

Paul Sulyok, Green Man Gaming
Commenting on this year's ranking, third-placed retailer Green Man Gaming founder and chief executive Paul Sulyok told Retail Week: "We feel that the use of customer data and the impact it has on the relationship with customers has shifted dramatically in the last two years. Especially with the introduction of GDPR, customers are far more aware of the value of their data."
He adds: "A responsible retailer needs to not only use the information they have on their customers in a commercial manner, but also be responsible, sensitive and respectful of their customers.
"By rewarding our customers, we help them feel they are earning something for allowing us access to their data and, in turn, that drives more brand loyalty and growth."
However, these themes are just the tip of the strategic iceberg.
This report takes a deep dive into the growth strategies of The UK's Top 30 Growth Retailers 2019 to examine how they have achieved this through creating tech-driven customer experiences and digital transformation.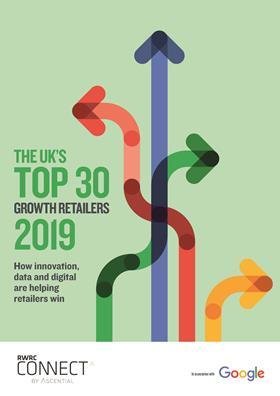 Download the full report for further insight into:
The growth winners – discover the top 30 retailers
The strategic blueprint that will drive growth
How the top retailers are using data effectively across channels
Why innovation is key and where retailers should invest.