The bosses of leading retailers including Primark, THG, eBay, Majestic Wine, Fat Face and Pandora have spoken in-depth to Retail Week for its annual flagship report –Retail 2024.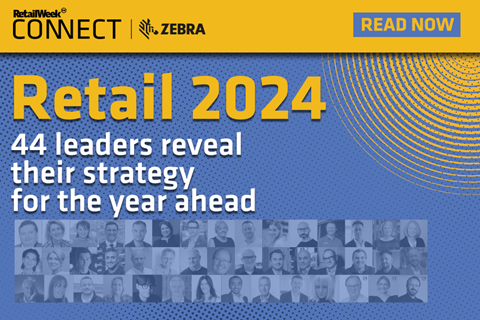 The report, now in its 12th year, gives you an inside perspective on the strategic conversations happening right now across the UK's retail boardrooms.
And those discussions are cautiously optimistic.
The exclusive research – based on interviews with 41 UK retail leaders and three international retail bosses – shows 74% expect growth in 2024, an increase from 67% in 2023.
Want to know how they plan to achieve that growth and where their investment priorities lie?
Access your free copy today to find out:
How the retail boardrooms of Fenwick, Molton Brown, Seasalt and Benefit feel about 2024
The ways leaders are reshaping their focus between digital and physical
Why stores, digital marketing and AI are dominating investment strategies
How Fat Face, Primark, Secret Sales and BP are building successful global businesses
The ESG strategies helping leaders create great places to work and connect with customers