Having made the switch from DIY to wine 18 months ago, John Colley is now preparing to craft out a career in another new retail sector.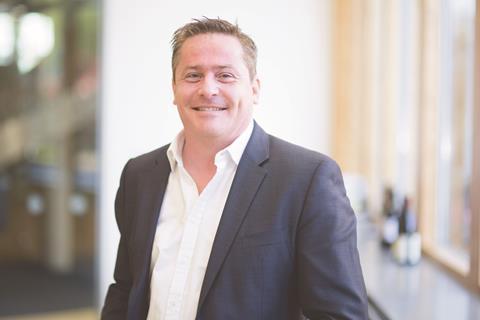 The managing director of Majestic Wine's retail arm will step down from the business at the end of May to take the reins from Catriona Marshall at the helm of arts and crafts specialist Hobbycraft.
The unexpected switch will bring with it another stark change of scenery for Colley, who has proved his pedigree across the industry.
After starting his career as an assistant stationery buyer for Woolworths, Colley worked his way up through the business to become its category merchandise manager, before joining Home Retail Group in 2001.
Three years later he was named commercial director of Screwfix and moved to Kingfisher stablemate B&Q in a similar role in August 2008.
Having spent four-and-a-half years on the continent with Maxeda DIY Group and then Praxis in the Netherlands, Colley returned to the UK to lead Majestic's retail division in September 2015.
Growth opportunity
Bournemouth-based Hobbycraft may be a smaller business – full-year sales climbed 7.6% to £151.8m in 2015/16 compared to the £244m raked in by the Majestic retail arm– but Colley insists: "It's not all about scale. It's about the opportunity."
And opportunity is certainly something Colley sees at the Bridgepoint-owned retailer.
He may not take the baton from Marshall until the summer, but Colley is already chomping at the bit to get started.
In his first interview since being named as Hobbycraft's new boss, Colley tells Retail Week: "It's a great market, it's a unique business.
"Catriona has done a bloody good job in terms of getting the basics sorted out and doing a lot of the heavy work, so I'm looking forward to the challenge.
"The most important thing is that the staff are fantastic and engaged in what they are selling. Just have a look on Facebook, you can see they love the business and they are really committed people.
"It's a complex business and, a bit like home improvement, it's a project-based purchasing journey for the customer."

John Colley, Hobbycraft's incoming boss
"It was a family-owned company when Bridgepoint bought it and they have put in a lot of the infrastructure needed to make it a solid retail business.
"It's a complex business and, a bit like home improvement, it's a project-based purchasing journey for the customer."
Hobbycraft operates 87 stores and last year launched a smaller format proposition as it bids to grow its footprint in Greater London.
Colley believes the key to success lies not just in growing that estate, but in enhancing the customer journey across all channels and encouraging shoppers to share their experience through social media.
It's an area the father of two young boys will already have his own views on as a regular Hobbycraft shopper himself.
"Hobbying is a great pastime and sector covering all ages. The key thing is knowing what you want to do, what you need, and have fun doing it. That's what Hobbycraft does better than anyone else," Colley says.
"They run courses and lessons for people which I think is key.
"There's a broader market of consumer they can get to just by having that help and experience in stores.
"You can go to The Range and buy some paintbrushes, or you can go to Hobbycraft and learn how to paint and buy some paintbrushes. Which one are you going to do?"
Craftsman
In the same way Colley immersed himself in the world of wine when taking on the Majestic role – not that he would claim to be the expert he was fast becoming – he is keen to take part in such classes and tackle more arts and crafts himself.
"I'm going to learn to knit. Honestly, I am. Why not? I quite fancy a new scarf," he quips.
"My mum used to do it, I remember. She was a mad Hobbycraft customer.
"I go there a fair bit too, especially in the winter. I'll go every other week picking up little things to make with the kids.
"I'm going to learn to knit. Honestly, I am. Why not? I quite fancy a new scarf."

John Colley, Hobbycraft's incoming boss
"I was baking cupcakes with my sons a couple of weeks ago – I can make a mean cupcake," he laughs.
"But that's something they really need to think about.
"When you've got children, what takes them 30 minutes to do? What's something to do for an hour? What's not messy? What's easy? What's more complicated?
"The shopping journey in stores, certainly for a bloke asking those questions, is a bit: 'Woah. Where do I start?'
"So I think there's some work to do on the customer journey and making it simpler for the customer."
Chairman's charm
Helping him make those decisions will be former Asda boss Archie Norman, the retail veteran who has chaired the business since January 2014.
Colley isn't afraid to admit that Norman's presence at the head of the Hobbycraft board was a crucial factor behind him taking the role.
"Archie's a bit of a legend, so getting to work with him is a big thing for me on a personal level," he says.
"He's got a brilliant mind, he's got huge strategic capabilities, he's very pragmatic, he's very straightforward and I think that's why we got on.
"He's the real deal, so he'll keep me on my toes that's for sure."
Until then, Colley will be on his bike rather than his toes, with cycling trips to Majorca and Italy planned this summer.
If he can get Hobbycraft's wheels turning just as quickly as he did Majestic's, it won't be long before Colley can raise a glass to another success story.