Etailer Appliances Online has rebranded as AO.com ahead of its expansion into new categories outside white goods.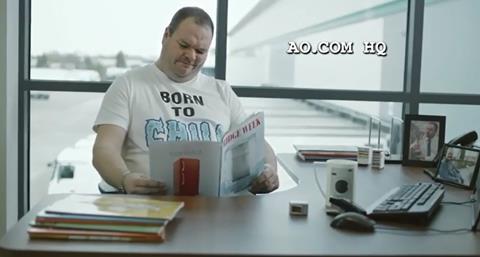 The etailer said the new name was easier for shoppers to recall and "works well across all of our platforms and potential categories".
AO.com is eyeing opportunities to branch into vacuum cleaners, coffee machines, mixers and food processors, small electricals and microwaves.
Appliances Online, which delivers around 20,000 appliances every week, has also embarked on its biggest ever marketing campaign to support the new brand and logo.
The national TV campaign comprises of two executions in which the viewer is introduced to the "joyously obsessive world" of AO.com.
The first execution features Barry (pictured), an AO.com employee who is obsessed with white goods and ends with him unveiling a new washing machine to an adoring hoard of ao.com workers. 'Dave's first day', the second execution, follows a new employee on his introduction to the company where he learns about the company's everyday mate's rates and next day delivery offer.
Both ads are accompanied by the Ramones' Blitzkrieg Bop and are running across ITV, Sky and Channel 4 and Channel 5 throughout September.
Chief executive John Roberts said: "Our ambition is to take the Appliances Online business beyond the white goods category at some point in the future and ao.com offers us a snappier, shorter name that not only resonates with the consumer but also works well across all of our platforms and potential categories.
"We are facing the future with a confident, charismatic, iconic and fun brand. We couldn't be in better shape."