Lush is mulling plans to open its largest store in the world in central London.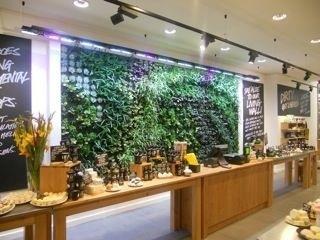 Currently looking for locations to open a 4,000 sq ft site, the beauty retailer hopes to have the store open within a year.
Newly-appointed property director at Lush, Paul Wheatley, said the retailer aims to open more stores in all big cities such as Edinburgh, Manchester and Glasgow.
Wheatley added that Lush will be upsizing in many of its existing locations. Lush has 98 stores presently in the UK, and 640 worldwide.
He added that Lush may install a spa in the London store, replicating the move it has made in a handful of other stores. "We would love to have a spa in the centre of town," said Wheatley.
Wheatley said Lush has been working on the plans for the London store for around 12 months
Lush has recently re-opened its largest UK store in Newcastle, at 1,500 sq ft, comprising its new green initiatives such as a 'living wall' – made from plants to purify the air- straw floorboards instead of MDF and LED lights.
"This is a step-change on how we're changing the business and we want to roll it out to the larger stores," said Wheatley.
The retailer will open three more stores before Christmas in Wakefield, Bristol and Livingston in Scotland, which are in addition to the five it has already opened this year.