The origin of The Original Factory Shop was selling overruns and seconds produced by Peter Black Holdings, which manufactured a wide range of own-label footwear, handbags, cosmetics, etc, mainly for M&S.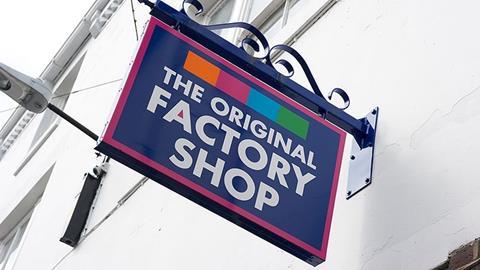 In 1988, Peter Black acquired the troubled Hornsea pottery on the east coast of Yorkshire from Alexon where it developed the existing leisure and modest retail park into one of the UK's first dedicated factory outlet centres - Hornsea Freeport - to add to a small chain of on-site factory shops and high street stores, the first of which had opened in the late-1960s.
Three buyouts later - in 1994, 2004 and 2007 - The Original Factory Shop operation has emerged as one of the lower profile, but certainly most profitable, of the value retailers among retailers such as B&M Retail, TJ Hughes, Wilkinson, Poundstretcher and The Range. The owners, arguably better known than the retailer, have included 3i and Bridgepoint, and, now, Duke Street Capital. At the helm lately have been George Foster of TJ Hughes fame, still a non-executive, who has now handed over to Angela Spindler, ex-Debenhams and George at Asda.
Original Factory Shop sales have grown at double-digit rates for most of the 2000s, as shown in Retail Week Knowledge Bank's profile update, culminating in a 35.6% rise in the year to March 2010, taking the total to £116.9m.
Its segment-leading operating margins have been in double figures lately and gross margin approaches 50%. Like other mixed goods retailers, Original Factory Shop has benefited from Woolworths' demise, but with just under 150 outlets there are clearly more to come. If Original Factory Shop has a weakness, it is perhaps that, at below £150/sq ft, its sales densities are low, even allowing for a significant proportion of immature space. Should densities rise, so should margins.