John Lewis launches its highly anticipated Christmas ad today and in a break with tradition the campaign takes the form of a cartoon.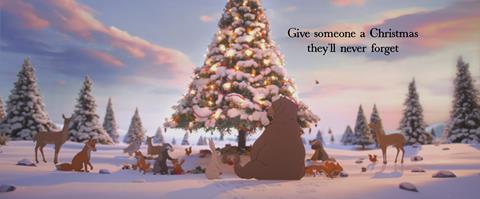 After launching on social media today, a two-minute extended version will make its TV debut in an entire ad break during X Factor tomorrow night, as revealed by Retail-week.com on Wednesday. It is an ITV first and an initiative deemed so controversial that it was personally signed off by media mogul and X Factor creator Simon Cowell.
The animation features best friends a bear and a hare as its central characters and is set in a woodland scene. The bear is preparing to hibernate and the hare feels sad that his friend will once again miss Christmas. The hare sets about finding the bear the perfect gift.
Featuring the strapline 'Give someone a Christmas they'll never forget', the ad is set to a cover of Keane's 2004 hit 'Somewhere Only We Know' sung by Lily Allen.
John Lewis marketing director Craig Inglis said that while the ad builds on the retailer's previous campaigns, through an emotional and "powerful" story backed by memorable music, the creative this year is a departure for the department store group.
He said the classic cartoon would evoke childhood memories. "It's like the animated films we saw as kids that we associate with Christmas," he said.
Inglis added: "We're hoping the bear and the hare will enter the public psyche like the snowmen did last year. It carries the whole idea of what Christmas is really about in a unique and special way."
John Lewis has spent £7m on the campaign. The retailer's managing director Andy Street said that despite booking an entire ad break during X Factor, overall the retailer had not spent more on the campaign than last year.
The campaign has already kicked off, with teasers on ITV featuring a 10-second clip of a sleeping bear with a #sleepingbear hashtag. The teasers do not feature John Lewis branding and Inglis said they are designed to "intrigue" viewers. John Lewis has also projected an extended version of the teaser onto a mini woodland scene on the Southbank in London.
Shop windows will reflect the ad campaign and soft toys of the bear and the hare will be sold in store.
The animation was designed by a team behind hits such as The Lion King and created by advertising agency Adam&Eve/DDB.
John Lewis' Christmas campaigns have proved an integral part of the retailer's festive push and have regularly topped consumer polls. Its tear jerking ads have included last year's snowman going to great lengths to find the perfect gift for his snow-woman. The year before the retailer's award winning campaign featured a little boy who could not wait to give his parents his gift on Christmas morning.
Street remained confident John Lewis would have another record breaking festive season. "We're limbering up quite nicely. We've had four fantastic Christmases in a row and we're after a fifth. We want John Lewis to literally own Christmas."
Street said that the My John Lewis loyalty scheme had signed up 200,000 members within six days of launching. "I'm sure it will grow and grow," he said.