Retailers' hopes for a winning Christmas have been dashed after food suffered its worst performance for five years and non-food was saved by online.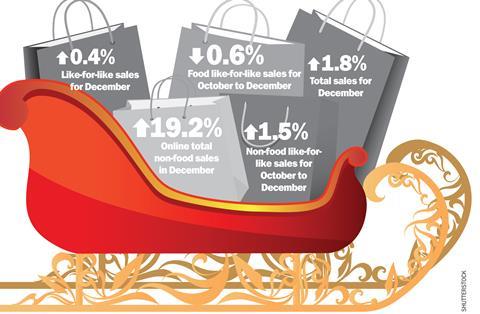 Like-for-likes, up 0.4%, and total sales, up 1.8%, rose at their slowest rate last year in December, despite store groups risking margins by slashing prices, according to the BRC-KPMG Retail Sales Monitor.
Store chiefs had hoped for a stronger golden quarter on the back of improving sentiment and encouraging economic data.
But food like-for-likes fell 0.6% on average across the three months to December.
Sainsbury's boss Justin King painted a bleak picture of the grocery market over the festive period.
Although the retailer reported its best-ever Christmas, King said it was also the most challenging.
"You always believe that the last Christmas was the toughest ever, but it seems like this one really was," said King. "The overall market is flat or in slight decline. This is the first time that has happened in my 30 years of retailing."
BRC head of business information Richard Lim said the overall performance of food was "pretty awful".
Lim blamed it partly on the easing of food price inflation to 1.7% in December, the lowest since June 2010, driven by the competitive market and commodity prices that are rising more modestly. He said households are continuing to trade down, as demonstrated by Aldi's record festive sales. However, the top end of the market also performed well. Waitrose posted record Christmas sales.
Non-food fared better, rescued by online growth. Like-for-likes on the three-month basis jumped 1.5%, against last year's 0.1% growth.
That was propelled by web sales, which advanced 19.2% in December, the highest growth for four years.
"Almost £1 in every £5 spent was being spent online, which is incredible given traditionally Christmas shopping is about visiting the high street," Lim said. John Lewis was among retailers to benefit from the channel shift as online sales increased to account for nearly a third of its total revenue over Christmas.
BRC director-general Helen Dickinson said: "This is a respectable result overall, in line with our prediction that Christmas trading in 2013 would reflect that while confidence levels were higher than the previous year, this wasn't always matched by more money in pockets. The last-minute rush also arrived as expected, giving a major boost to sales in the final few days before Christmas after a fairly flat showing mid-month."
Health and beauty was the best performing non-food category, followed by fashion, which benefited from pent-up demand following a lacklustre autumn because of warm weather. Next revealed sparkling Christmas figures and raised profit forecasts for the year.
Electricals and toys also boosted non-food sales. The housing recovery continued to lift big-ticket items with bedroom furniture among the most sought after items in December.
Department stores fared well in December as they provided the shelter from the rain and wind. The BRC said tourists from Thailand are now the joint biggest spenders on the UK high street with a £742 average spend per transaction, at the same level as the Chinese.
However, the tills did not ring for all non-food retailers. Footwear sales were down, while both Debenhams and Mothercare issued shock profit warnings.
Marks & Spencer was expected to reveal disappointing figures as Retail Week went to press.
Blanket discounting, which put pressure on margins, led December shop prices to plunge at their sharpest rate in seven years, according to the BRC-Nielsen Shop Price Index.
Lim added: "Christmas was disappointing. Inflation is still outpacing wage growth and until wages pick up it will continue to be a difficult and challenging time."
KPMG head of retail David McCorquodale said: "The new year will lead retailers to invest more in multichannel capabilities and many will use the quieter first quarter to do just that, or face the prospect of losing out further.
"For consumers, paying for Christmas will be the first priority of 2014; until wage growth outpaces inflation many households will remain confined to a tight budget for the foreseeable future."