Made.com boss disappointed by outcome of EU referendum
New Paris flagship showroom opened to public today
Business on track to grow by a further 50% this year
Overseas markets now account for around 40% of sales
Made.com boss Ning Li has admitted he is "disappointed" by the outcome of the EU referendum as he launched the business's new showroom in Paris.
At the launch of the etailer's largest showroom to date, founder and chief executive Li told Retail Week that, "as a foreign immigrant entrepreneur", he feels "very disappointed" by the result of the EU referendum.
The London-headquartered business opened its Paris flagship showroom to the public today, measuring 840 sq m in the fashionable Second Arrondissement, close to the Louvre.
Li, who was born in China, said: "One of the reasons I originally chose to come to the UK was because of the openness, the culture of free trade and the free movement of people, and I feel those principles and pillars are essential to the UK's positioning."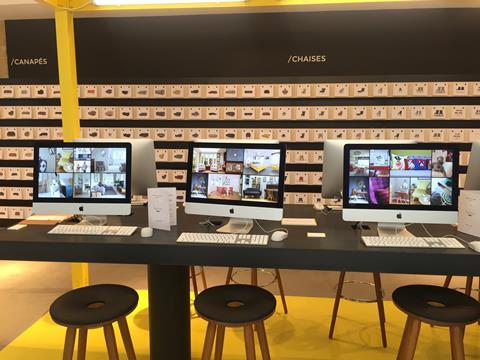 The pure-play furniture business has 250 employees, 70 of which are European.
"These 70 are all now questioning if they should stay or leave," Li said.
However, while he thinks the UK housing market will be affected straight away, Li insisted that this will not have an impact on business.
He said: "If people cannot afford to move, they may choose to refurbish their homes and will still be buying furniture."
Driving overseas expansion
Made.com, which is set to open a seventh showroom in Berlin in the coming weeks, has undergone a period of aggressive overseas expansion since initially entering the French market in 2013.
The Paris showroom is the etailer's first overseas flagship and is designed to further support its international ambitions. The business currently operates in Belgium, Germany and Italy, as well as in France and the UK.
Li said: "We remain focused on extending our product range, building brand awareness and loyalty across our five markets, which combined are worth £100bn.
"Momentum remains strong across the business and we continue to progress towards our ambition to become Europe's number-one destination for home design."
Currently, around 40% of Made.com's sales are generated across its international markets – the largest of which is France, where the idea of Made.com was first conceived.
The showroom model
The Paris showroom is intended to be a space of "design and inspiration" as well as a "creative space for young talent" said Li, "fusing the physical and the digital, combining real and virtual products".
Li added: "Customers can discover the products, test and touch them, collate and save information on items of interest through the use of CloudTags technology and complete their order online in the showroom, or later at home."
Shoppers can also immerse themselves in the products by viewing projections of them inside a 360-degree tunnel.
Made.com opened a showroom in Amsterdam earlier this year and has others in London, Liverpool, Leeds and Milan.
However, Li said he does not think it necessary to have many more.
He said: "The showrooms are a brand experience space, where people can talk to us, get reassurance and inspiration. But around 90% of people purchase online without seeing the products.
Li added that he would like there to be a flagship showroom in each of the European capitals the business operates in.
"Beyond that, we'll see how it goes," he said.
Trading update
On recent trading Li told Retail Week: "We grew by 50% last year and we're on track to do the same again this year."
The business is yet to enter the black, six years after it was founded in March 2010. In its last full-year, Made.com reported a widening of losses to £5.3m, despite sales soaring 63% to £42.8m.
Li said: "The business is already profitable in the UK, but not yet as a group because we've been investing a lot in Europe.
"Now, with Brexit, it makes even more sense to invest aggressively in Europe in order to diversify our revenue."
Li added that, having just launched in Germany, Made.com has no current plans to expand into any other international markets.