Beauty products brand Elizabeth Arden has linked up with The Hut Group to launch its new ecommerce website, which offers next-day delivery.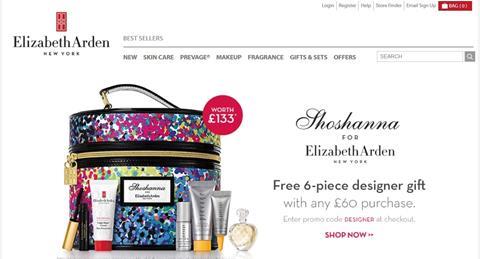 The website, which is Elizabeth Arden's first direct-to-consumer site in the UK and Ireland, will be powered by The Hut Group's technology platform.
Customers shopping online will be able to order products for next-day delivery if ordered before 9pm.
The Elizabeth Arden UK launch is The Hut Group Platform's 25th brand launch.
It already powers more than 50 sites across its own health and beauty brands and for third parties including Japanese electronics giant Nintendo.
Tom Dean, senior marketing manager at Elizabeth Arden, said: "We are extremely excited to launch our online store in the UK, and are confident that partnering with The Hut Group will deliver our customers the Arden experience they know and love, from the convenience of their own home or mobile.
"The Hut Group was the natural choice for us given it has significant experience in both the online health and beauty markets, plus at retailing established third-party brands and its own leading brands direct to consumers."
The Hut Group Platform's chief executive Richard Chapple added: "We are delighted to partner with one of the biggest brands in health and beauty and to work alongside a team at Elizabeth Arden which has the same exceptional customer focus as ourselves.
"By combining our technical, commercial and logistical expertise with Arden's brand and innovative products, we are confident that the site will be a great success for all."