Online retailer The Hut Group plans to invest more than £100m in a new distribution centre in Warrington over the next three years.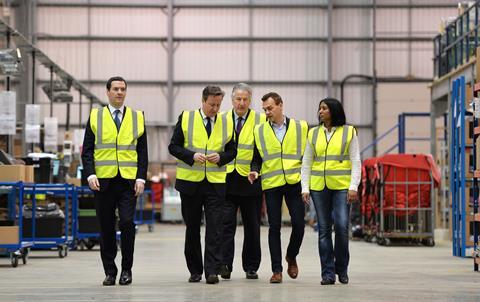 The business said the site will allow The Hut to increase revenue to £1bn from £250m last year, and create 2,000 new jobs.
Prime Minister David Cameron and Chancellor George Osborne visited the retailer's Appleton, Warrington, distribution site to welcome the announcement.
Group talent director Ash Ramrachia said the group's growth is largely being driven by international expansion. The business launched 17 international websites over the past year.
"We delivered 13 million orders across 190 countries last year," he said. The Hut plans to launch its Look Fantastic website and plans to launch sports nutrition websites across the EU by the end of the first half of this year.
Ramrachia said the company will unveil further international websites in order to reach the £1bn target.
Sports nutrition is a focus area for the business, with the division accounting for £100m in sales last year, and the manufacturing site will be Europe's largest sports nutrition site.
Bespoke solutions
The retailer plans to invest £80m in the site by the end of 2015 through construction and technology, with a further £20m earmarked for development of additional land within three years.
The investment will see The Hut Group build a 836,000 sq ft distribution and manufacturing centre in Warrington. At present the online retailer operates four distribution centres around Warrington, covering around 350,000 sq ft, said Ramrachia.
He said the new site will allow the company to increase efficiencies and economies of scale as all warehouse staff will be on the one site.
Ramrachia emphasised that while there will be a significant number of warehouse jobs at the site, there will also be a significant number of IT jobs because the business is building bespoke management software.
"Given the diversity of our product range, we have to build our own product. We're a tech business at heart, so we like to build our own solutions," he said.