Tesco's own-brand yoghurt will soon be made from British milk following a "constructive" meeting with representatives from farmers unions.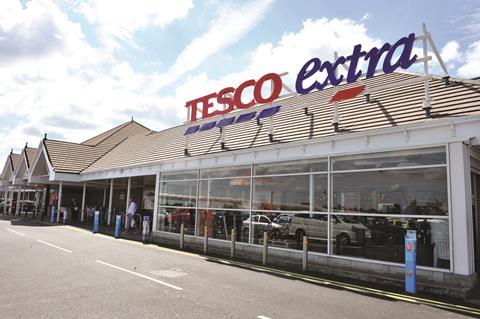 Tesco to make own-brand yoghurt from British milk
Decision comes following "constructive" meeting with farmers unions
Grocer will meet farmers again in September to discuss other concerns, FFA says
Supermarket rivals have already upped price they pay per litre of milk
The supermarket giant met with members of the National Farmers Union (NFU) and Farmers For Action (FFA) following protests at two of its distribution centres.
Campaigners targeted the Avonmouth and Widnes warehouses on Sunday night after claiming the supermarket giant sourced milk to make cheese, yoghurt and other dairy products from outside the UK, rather than using domestic suppliers.
Tesco's commercial director for fresh food, Matt Simister, held talks with the NFU and FFA on Wednesday to "listen to their concerns" and has agreed to make all standard yoghurts with British milk from early next year.
The FFA claim Tesco's own brand yoghurts are currently made using German milk.
The changes come after Asda, Aldi, Lidl and Morrisons all agreed to increase the amount they pay farmers for milk following a string of protests. Farmers blockaded distribution centres and cleared the aisles of milk in a series of 'milk trolley challenges', even herding cows into supermarkets in some instances.
Tesco was not targeted in those protests because the price it pays suppliers for milk is already linked to the cost of production. But the UK's biggest retailer came under fire at the start of this week because of the volume of dairy products it is alleged to import.
Cheese changes
As well as lobbying Tesco to produce yoghurts using British milk, the NFU and FFA also asked the grocer to buy cheese at a minimum farm gate price of 28p per litre and for all milk sold in its One Stop convenience business to carry the red tractor logo. Campaigners also want cheese to carry a single country of origin label, rather than multi-country origins.
A spokesperson for Tesco said: "Members of our dairy team had a constructive meeting with representatives from the FFA and NFU yesterday, as part of our collaborative approach with farmers and growers in British Agriculture.
"We listened to the concerns they put forward, updated them on our current plans and are committed to build on the progress we have already made to help support the British dairy industry."
A statement from FFA said: "On their yogurt, [Tesco] gave us categorical assurance that by March 2016, all their own label yogurt will be made with British milk. The reason for the slight delay is obviously contractual issues with their current supplier.

"They have agreed to go away to discuss all the other issues and we will reconvene the meeting on the 2nd September."