Tesco has launched a pilot of new technology that will allow it to recycle all forms of plastic packaging.
The supermarket giant has partnered with recycling specialist Recycling Technologies to test the initiative in 10 of its stores.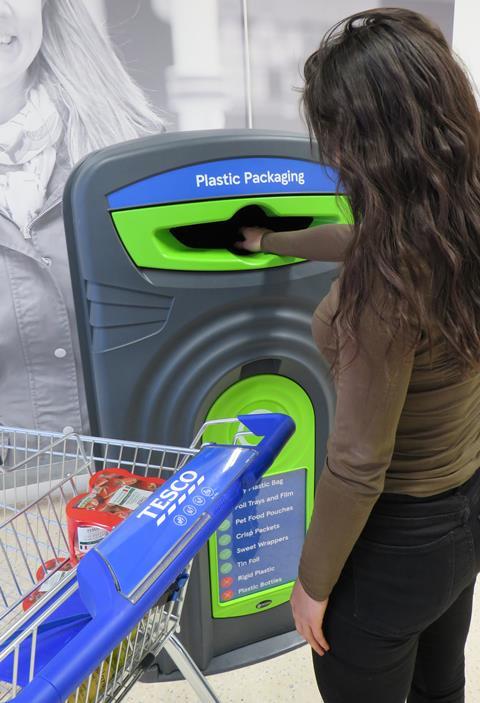 Shoppers will be able to return hard-to-recycle plastics, including shopping bags, crisp packets and pet food pouches – none of which can usually be recycled by local councils – as part of the trial.
Tesco will initially install the new recycling points at 10 stores in the Bristol and Swindon areas.
Recycling Technologies will then transform the packaging into an oil called Plaxx, which is used in the manufacture of new plastic.
The initiative comes as Tesco steps up its efforts to make all of its packaging recyclable by 2025. Some 83% of the grocer's packaging is currently recyclable.
Last week, Tesco unveiled plans to remove packaged fruit and vegetables wherever loose alternatives were available. The small-scale trial is taking place in two of its largest supermarkets in Watford and Swindon.
Tesco director of quality Sarah Bradbury said: "Reducing and recycling plastics is such an important issue for us, for customers and for the future of our planet. That's why we are working hard to reduce the amount of packaging in our stores and have committed that all remaining packaging will be recyclable by 2025.
"Our trial with Recycling Technologies will make even more of our packaging recyclable and help us reach our target. This technology could be the final piece of the jigsaw for the UK plastic recycling industry."
Recycling Technologies' chief executive Adrian Griffiths added: "We are delighted to be working with Tesco to help its customers recycle more of their household plastic waste using our specialist feedstock recycling process.
"This initiative with Tesco is designed to show there are solutions to recover this important material. Our goal is to double the UK's capacity to recycle plastic waste by 2027."