Tesco boss Dave Lewis has urged the Government to consult retailers in greater depth before making policy changes that affect the sector.
Lewis has called for a culture of "consultation, collaboration and co-operation" between the industry and the Government that would give retailers more of a say on certain policies.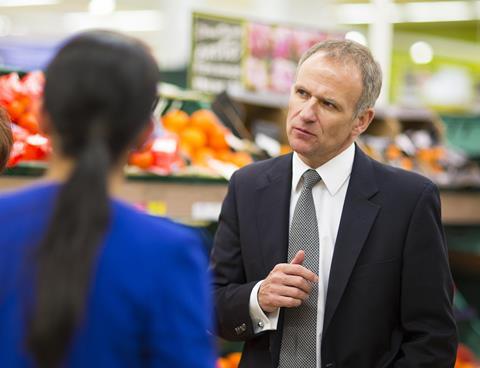 Speaking at the CBI conference today, Lewis urged politicians to work with the industry on issues including business rates and the national living wage, and added: "The British Retail Consortium is already attempting to do this, but it takes two to tango."
Lewis said: "If we can meet in the middle ground, we can solve problems together.
"We can forge partnerships which drive progress on health, training, skills. Create economic growth while protecting families and the communities where they live. Achieve sensible regulation and a new balance of taxation and incentives.
"But, if we can't consult effectively, or find better ways of working together, I fear that it's communities all over Britain that will suffer."
He added: "I would encourage the industry and Government to sit down at the highest level and consult on the multiple policy changes that are affecting the industry, to share together the consequences of higher rates, the living wage and initiatives such as the apprenticeship levy."
'A fuller debate'
Lewis claimed the new national living wage of £7.20 per hour, which comes into force for workers over the age of 25 next April, drew "arbitrary lines" that didn't take into account the benefits employees receive beyond their hourly wages.
"We need a fuller debate aimed at doing the right thing for the people in our industry without imposing more cost without providing individual benefit or business return," Lewis said.
"As an industry there is a worry that the unintended consequences of the living wage have not been fully thought through."
Lewis, who took the reins at Tesco last September, admitted he had faced "a baptism of fire" and said changing shopping habits had resulted in "painful" decisions to shutter stores and abandon planned openings.