Sainsbury's has reported like-for-like retail sales for its third quarter down 1.7% excluding petrol, and boss Mike Coupe warns of challenging times ahead.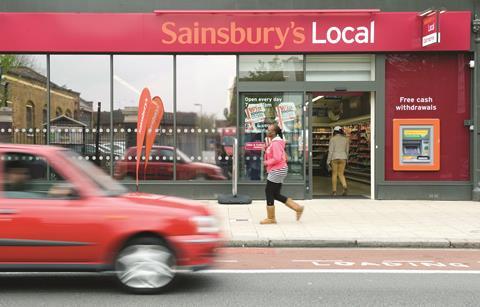 For the 14 weeks to January 3, total retail sales were down 0.4% excluding petrol.
The figures were against a consensus of -3.2%, although Sainsbury's guided at its half year that it would be around -2%. Coupe said that the consensus is "largely based on Kantar data which doesn't reflect our overall sales performance".
Sainsbury's said customers traded up to its top-end Taste the Difference range, and it grew 5% year on year. It also sold over 57 million mince pies and over 550,000 turkeys, up 8% year on year.
Product prices slashed
This week Sainsbury's has slashed the price of 700 products as part of its £150m price investment revealed in November. The total number of products reduced now stands at 1,000. Rival Asda has also slashed prices this week and Tesco is expected to launch an offensive tomorrow.
Coupe said: "The outlook for the remainder of the financial year is set to remain challenging, with food price deflation likely to continue. Our performance in the third quarter showed an improving trend quarter on quarter. However, given the uncertainty in the trading environment, food price deflation and the price reductions we announced this week, we currently expect our fourth quarter like-for-likes to be similar to that of our first half.
"Our prices versus our supermarket peers have never been better and alongside our differentiated quality and service offer, we are confident we will help our customers Live Well for Less throughout 2015."
Sainsbury's reported a record-breaking week before Christmas with more than 29.5 million customer tranactions, and the redemption of £124m worth of Nectar points.
Some analysts have suggested that Sainsbury's was positive over Christmas. Bernstein suggested like-for-likes over Christmas would have been up 1.3%.
Coupe refused to break out Christmas figures from its third quarter but said: "We had a record number of customer transactions and customers tend to trade up at Christmas so you can draw your own conclusions."
£8m

Sainsbury's biggest ever convenience day on Christmas Eve
The trend for convenience continued and the business reported growth of over 16% in the quarter. Its biggest ever convenience day was Christmas Eve, when it took over £8m.
Sainsbury's said clothing and general merchandise trading strongly, in particular clothing which was up nearly 10% year on year.
Online growth was 6%, which Coupe said showed a slight underperformance to the market but added: "We've said before that we're not going to chase sales and there was a huge amount of vouchering over Christmas."
Sainsbury's reports Q3 like-for-likes down 1.7% and outlook challenging
1

Currently reading

Sainsbury's reports Q3 like-for-likes down 1.7% and outlook challenging

2