Sainsbury's boss Mike Coupe has vowed to fight on despite the collapse of the grocer's proposed merger with Asda.
Coupe insisted he remains "committed to the business" and had the support of the grocer's board and shareholders, as he bids to drive its strategy forward.
Coupe's defiance came a week after the Competition and Markets Authority blocked Sainsbury's proposed £13bn combination with supermarket rival Asda.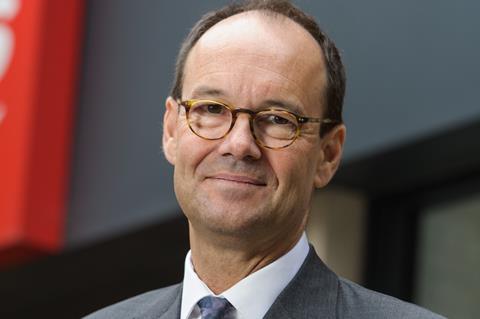 The verdict – coupled with turbulent trading within its core grocery business – heaped pressure on Coupe, sparking speculation that he could step down or be ousted by Sainsbury's new chair Martin Scicluna.
But speaking after Sainsbury's reported a 41.6% slump in pre-tax profit to £239m in the year to March 9, Coupe said: "I'm committed to the business. I've got the support of the board, the support of the shareholders and we are doing all the things that we need to do in terms of adapting our business to changing customers' needs."
But when pressed on how long he would remain at the helm, Coupe said: "It would be foolish to make any commitment on time, so I'm not going to do that."
Sainsbury's and Asda had insisted the merger would allow the combined business to plough £1bn into prices over the first three years of the enlarged entity, slashing the cost of core grocery products by 10%.
But the CMA ruled that prices could rise and quality could be affected if the deal went through.
Coupe said Sainsbury's was "drawing a line" under the merger and would not be pursuing a legal challenge. But he added: "We believe the decision is fundamentally flawed. It takes away from customers £1bn of price investment and cost savings – and it's quite difficult to imagine in the brutally competitive grocery market that somehow prices could go up, quality could go down and service could go down, but it is what it is."
Sainsbury's said it would now focus on accelerating its existing strategy and plans to revamp 400 supermarkets in 2019/20.
It has earmarked £550m for capital expenditure during the fiscal year, but chief finance officer Kevin O'Byrne said Sainsbury's was now "skewing that more towards the food business, the store estate and digital".
He added that an additional £100m will be invested in those areas compared to last year.
Coupe said: "At the highest level, our customers are shopping more frequently, they are shopping around more, they demand more convenience and they are shopping more online. We are adapting our business to those changing customer needs.
"That's been our business strategy for the last three or four years and we continue to evolve that strategy. Certainly there are some areas where we are putting more emphasis – the investment in digital technology would be an example of that and we have more cash to invest back into our underlying supermarket chain.
"But there is no silver bullet that is suddenly going to pop out of the hat. This is the kind of market and the kind of business that small, incremental changes, week in, week out, will make the changes in the longer term. That's what we are focused on doing."
Sainsbury's Coupe vows to stay despite failed Asda deal
1

Currently reading

Sainsbury's boss Mike Coupe vows to stay despite failed Asda merger

2

3