Firefighters who tackled a blaze at Ocado's Andover warehouse said their work was "very difficult" because the building was "not meant for humans".
The fire broke out at Ocado's distribution centre, which deploys the latest technology, on Tuesday. It was thought to have been dealt with but erupted again yesterday, leading to the imposition last night of a 500m exclusion zone and the evacuation of local residents.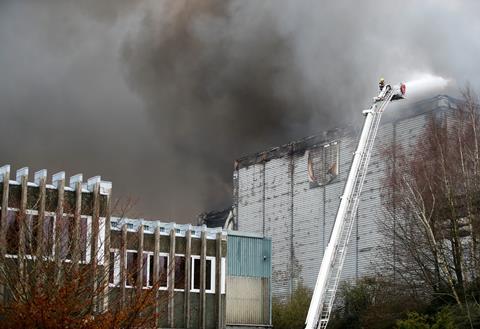 Hampshire chief fire officer Neil Odin told the BBC: "This building is not meant for humans to be interacting with the racking and the storage – it has robots moving racking on to loading bays, so for firefighters trying to get in that high and to make an effective fire-fighting strategy, it has been very difficult."
The blaze is understood to have involved automated packaging machinery, according to the fire service.
Yesterday, Ocado warned the fire could affect performance. The etailer said: "As Andover was providing approximately 10% of our current capacity, as a result of this incident there will be a constraint on our ability to meet our growing customer demand and there will be a reduction in sales growth until we can increase capacity elsewhere."
Ocado's shares plummeted yesterday. Bernstein analyst Bruno Monteyne said: "What is totally unclear to us at this stage is whether the cause of the fire (unknown right now) has any implications for the technology platform itself."
Ocado's technological prowess has allowed it to strike landmark deals with international retailers such as US giant Kroger.
Ocado apologises to evacuated residents
In a statement released this morning, Ocado apologised to local residents affected by the fire.
Ocado also said that it is "working hard to minimise disruption for customers" by increasing capacity at its other three fulfilment centres, including its new facility in Erith, south London.
The full statement read: "Since our last update, the fire brigade has continued to work to bring the fire at Andover under control. Due to concerns over the presence of pressurised refrigerants on site, the police conducted a limited evacuation of the immediate area on Wednesday evening.
"The removal of these materials is now complete, major incident status and the evacuation area have been removed, with local residents and workers now able to access the affected area as normal. The fire brigade is expected to remain on site for at least the next few days.
"Ocado has been working closely with the emergency services and other organisations. Ocado vans with food, drink, nappies and other essentials were sent to Andover and hotel rooms were made available for those who had to leave their homes during the night. We would like to thank the large number of local businesses that came to the assistance of the community.
"We apologise to all those affected by this incident and are very thankful to the people of Andover for their understanding and support during this difficult period.
"We would like to once again thank the Hampshire Fire Service, the Hampshire Police and all the other emergency services and agencies for their hard work and professionalism in dealing with this incident.
"As previously announced, there has been substantial damage to the Andover building and its contents. Ocado is working hard to minimise disruption for customers by increasing capacity at other facilities. Ocado is grateful for the patience and understanding of customers during this period."