Morrisons has launched a new brand of milk offering customers the choice to pay more per litre to support dairy famers.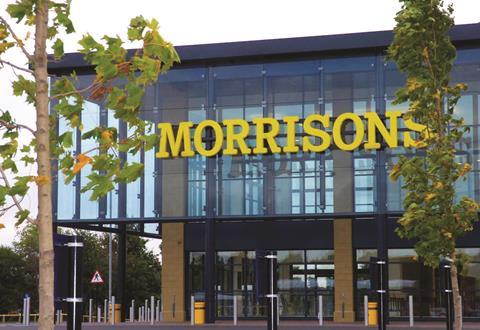 Morrisons launches new milk brand to support its dairy farmers
Cartons will be more expensive, with 10p per litre going directly to farmers
Booths introduced similar Fair Milk scheme last March
The new brand, Morrisons Milk for Farmers, will go into all of its stores in the autumn. The grocer said that 10p per litre of the retail price will go directly to dairy farmers. The cartons will sit alongside Morrisons standard-priced own-brand milk in its dairy aisles.
Upmarket grocer Booths has run a similar scheme since March 2014, when it launched its Fair Milk scheme. Sales of Fair Milk rose 5% during the past four weeks according to IGD, outperforming the market as farmers staged protests at supermarkets and distribution centres across the country.
Morrisons' move was revealed after the grocer's bosses met lobbyists Farmers for Action and members of the four main farmers' unions, the National Farmers Union (NFU), NFU Cymru, NFU Scotland and the Ulster Farmers' Union to discuss the issue of milk prices.
It marks a remarkable U-turn just a week after Morrisons had threatened protestors with legal action following a string of 'milk trolley challenges', which saw campaigners remove cartons of milk from the shopfloor and either paying for them and handing them out to customers outside stores, or dumping loaded trolleys at the checkouts.
Campaigners say they are being paid less than the cost of production for their milk as supermarkets slash prices to better compete with the likes of Aldi and Lidl.
'Practical help'
Morrisons corporate services director Martyn Jones said: "We recognise that the current market for liquid milk is impacting on hardworking dairy farmers and their families.
"We want to reassure the industry that the retail price we charge for Morrisons milk reflects the highly competitive retail market. It is not linked to the price we pay our milk suppliers.
"We want to offer practical help by launching a range of four-pint milk at a retail premium of 10p per litre, all of which will be passed back directly to dairy farmers. We will stock this product in all our stores, offering our customers the choice to support dairy farmers directly."
Following today's meeting with farmers' unions, Morrisons also issued more details on how it pays for its milk from majority supplier Arla, which is owned by farmers.
Jones said: "We also want to clarify that our current three-year contract with Arla, who supply the majority of our milk, uses a cost model that automatically adjusts the price that we pay for milk, based on a combination of the independently set farmgate price and other commodities such as diesel and plastics that influence the cost of milk.
"We can confirm that we have asked our milk suppliers not to pass on further decreases in the current farmgate price to us, but to share any benefit with the dairy farmer instead."
Grocers follow developments
Tesco said it already pays a premium worth more than the cost of production to dairy farmers on all of its own-brand milk products.
A spokesman said: "Through our Tesco Sustainable Dairy Group we ensure we pay a fair price based on the cost of production. We are proud of what we have achieved with our dairy farmers through the TSDG since its inception in 2007, including consistently paying one of the highest prices in the industry for our milk."
An Asda spokeswoman said it is taking the matter "seriously" and added that it followed this week's developments at Morrisons "with interest." The spokeswoman said that Asda was "already in constructive discussions about how we can further support" dairy farmers, but refused to be drawn on whether the grocer would follow Morrisons' lead by launching a more expensive brand of milk.
"While we are in regular contact with industry representatives, we are also in the process of setting up a formal meeting with the NFU to discuss the most responsible source of action for both our dairy farmers and customers," the spokeswoman added.
"Ahead of our meeting we will continue to explore the options available to support our dairy farmers, whilst ensuring our customers don't end up shouldering the burden of any actions."