Morrisons is kick-starting a drive to recruit more than 200 new suppliers within the next year as it ramps up its British credentials.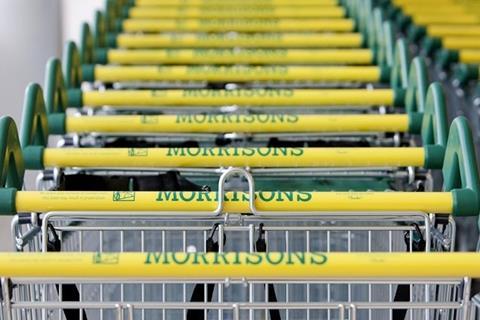 The grocer has launched a new campaign, titled 'The Nation's Local Foodmakers', amid plans to work with hundreds more food producers from across England, Scotland and Wales.
Morrisons, which is in the midst of a turnaround under the stewardship of former Tesco executive David Potts, is inviting suppliers to pitch for listings in its supermarkets at 12 regional events, the first of which will take place in Yorkshire on March 14.
The retailer said the search will result in more of its customers being able to buy more food that was "grown, made, picked or packaged" within 30 to 60 miles of their local supermarket.
It comes as the British Food Report, published by leading experts on global food issues and commissioned by Morrisons, revealed that only half of all food eaten in the UK comes from British farms.
The report, which was led by Professor Tim Benton from the University of Leeds, suggests that it makes increasing sense to build a stronger local food sector across the UK in the midst of global uncertainty and climate change.
Courgette shortage
Supermarket chains including Morrisons, Tesco, Sainsbury's and Asda faced shortages of fresh produce including courgettes and iceberg lettuces earlier this year after a bitter blizzard in Spain destroyed vegetable supplies.
The British Food Report warns that Britain currently relies "too much" on food produced overseas – exporting £18bn of food and importing £39bn.
The difference is worse in vegetables, a category in which the UK exports £1bn worth of produce but imports £9.1bn worth.
Although the report admits that the UK can never be entirely self-sufficient in terms of food production, it adds that buying more food locally would increase the country's resilience to climate change and potential trade wars.
The report adds that British customers have an increasing appetite to purchase more domestically sourced food because they believe it supports their local communities and comes from more trustworthy farms.
Buying British
Separate research by Morrisons on 2,000 adults revealed that 67% preferred to buy British.
Morrisons chairman Andy Higginson said: "Our customers tell us they want to see more food that is made just down the road from their own communities, and that's why we are looking for the next generation of British and local foodmakers."
"Our customers tell us they want to see more food that is made just down the road from their own communities"

Andy Higginson, Morrisons
He added: "We want small UK food suppliers to become bigger ones – the Innocent Smoothies of tomorrow – and we also want to give our customers the option of more food that meets their local food tastes.
"Morrisons is already British farming's biggest single customer, and the publication of the report today from Professor Benton makes us more determined to produce more of our food and source more from local British suppliers."
Morrisons is asking food producers to apply for the initiative through its website.
Selected suppliers will then be invited to an event in their region, where they will be able to showcase their food to customers, Women's Institute members and Morrisons staff and buyers, who will hand-pick producers for listings in some of the grocer's 491 supermarkets.