Iceland has reported a year of strong sales growth but annual profits were hit by factors including poor availability in the key Christmas period.
Iceland's sales climbed 8% to £3.02 billion in the year to March 30 and like-for-likes increased 2.3%. However, adjusted EBITDA fell 1.8% to £157.1m.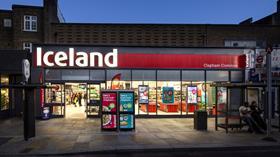 Iceland invested in more openings of Food Warehouse stores, adding 23 branches to take the total to 59. The frozen food specialist also refitted 51 Iceland shops and said the new-generation stores are performing well. Iceland's online business achieved "market-leading growth", it said.
Iceland group managing director Tarsem Dhaliwal said the dip in earnings reflected "the annualisation of the investment we have made in some of our central costs, and investment in marketing and price, together with problems in our supply chain infrastructure during December, which caused poor overall availability in our key Christmas weeks and inadequate supplies of some of our best-selling seasonal lines."
In the new financial year so far, total sales are up but like-for-likes are down versus 6.4% growth in the first quarter last year.
Group EBITDA is expected to be down year on year in the first and second quarters as a result of the sales performance and other factors such as increased staffing costs because in the rise of the national living wage.
Dhaliwal said: "The third quarter gives us strong scope for profit recovery due to the timing of investment and the poor performance in the previous year.
"This year we have continued to take a long-term view and to invest for the future: expanding our store footprint, enhancing the appeal of our existing stores through a major programme of refurbishments, growing our award-winning online business, continuing to roll out new and exciting food lines that are unique to Iceland, and developing our supply chain to support the growth of our retail estate."
He said there had been a "revived focus" on sustainability, including the launch of an initiative to eliminate plastic packaging from own-label products by 2023.
Dhaliwal added: "These actions are helping to set Iceland apart as a business that is truly different, and are increasing public awareness and enhancing respect for our brand and our values.
"Although our motivation in acting on plastics and palm oil is not primarily commercial, we believe that the positions we have taken can only enhance our appeal to consumers, and hence our sales, in the longer term."