David Cameron met with the bosses of grocery retailers yesterday amid speculation he used the occasion to ask them to speak out against Scottish independence.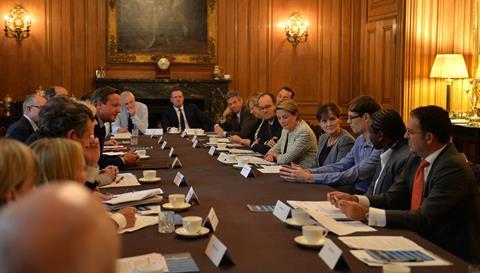 Sainsbury's boss Mike Coupe and Morrisons chief executive Dalton Philips met Cameron as part of a roundtable to discuss what the grocery sector is doing to help address poor employability skills of young people in the UK.
The meeting was on the same day news broke that Asda's Andy Clarke warned prices could rise in an independent Scotland because the retailer's business model would become more complex if it had to operate with more than one set of rules in more than one market.
It is understood Kingfisher boss Sir Ian Cheshire is compiling a letter to be published this weekend that will feature major retailers including Marks & Spencer chief executive Marc Bolland expressing concern over the impact independence would have on prices.
Cheshire was the first retailer to break ranks in May when he expressed concerns about independence and has led the way again this last week by being vocal about the impact of a Yes vote in next week's referendum.
Speaking at an event on Wednesday, Cheshire said: "There seems to be a few things being assumed about independent that I don't think are valid assumptions and businesses need to contribute [to the debate]. I made an intervention in May because I feel I want to be part of the debate."
Meanwhile, former Sainsbury's boss Justin King and John Lewis Partnership chairman Sir Charlie Mayfield yesterday said that prices would rise in an independent Scotland.
IGD's chief executive Joanne Denney-Finch arranged yesterday's roundtable discussion on youth employability and the grocery sector which laid out what companies are doing to remedy the situation.
Measures include the food sector creating 15,000 opportunities this month for young unemployed people to attend employability skills workshops as part of a 'Feeding Britain's Future initiative'.
The Prime Minister said: "I want to make sure young people know what opportunities are out there for them, so they can develop the skills they need to get themselves into good jobs and earn a living.
"We have already seen record drops in youth unemployment – and I am grateful for those involved with schemes like Feeding Britain's Future which have provided opportunities for training, work experience and apprenticeships and led to real career progression for young people."
Other chief executives in attendance included Fiona Dawson of Mars and Fiona Kendrick of Nestle.