Discount books and stationery retailer The Works has revealed a decline in full-year profits and a rise in sales as it invested in its multichannel offer.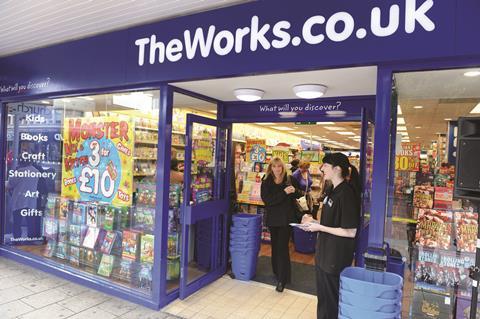 The news comes as the retailer prepares to roll out its loyalty card, which boss Kevin Keaney has called a first for the value sector.
EBITDA declined from £7.5m to £5.6m in the year to April 30 as the retailer invested in its ecommerce platform, new stores and revamping existing shops. Keaney said The Works is in a "transition period" as it transforms into a "true multichannel retailer, which is where our future lies".
Total sales increased from £132.5m to £134m, powered by online sales and 13 new stores. Like-for-like sales at the 304-store retailer were flat.
Keaney said he was pleased with the performance, particularly as the retailer was up against tough comparables the year before when hit books The Hunger Games and Fifty Shades of Grey were released.
Since year-end the retailer has experienced a mixed performance after it struggled in the "extreme hot weather" in July. However, Keaney said trade picked up in August and that The Works had its best ever Back to School season.
"I think we'll have a really strong September," he said. Keaney added The Works was "cautiously optimistic" for the golden quarter. "We're well set up for Christmas," he said.
Online sales rocketed 314% in the year and now represents 5% of overall turnover. Keaney said The Works has "ambitions to grow that to 20% in the medium term".
The Works will roll out its Together loyalty card by Christmas after a trial last year. Customers accrue five points per pound spent. "We believe that's leading edge," said Keaney. "It's had a positive effect on average transaction value."
In the year the non-books categories performed strongly, and now represent 50% of overall sales. Like-for-likes grew 20% in crafts, 10.5% in arts and 18% in games.
Keaney said: "Books are still incredibly important and we offer something different. But we're keen to make sure our credentials in arts and stationery are shouted about."
He said that there are still expansion opportunities left for The Works, within the M25 and in Ireland in particular.
He added that international expansion also formed part of The Works' long-term plans, and that the retailer had been approached by potential overseas partners from countries including Australia and the US.
The Works chairman and investor Anthony Solomon said: "The business has a very strong balance sheet giving us an excellent financial platform on which to capitalise on the significant opportunity that we see both on the high street and online."
The Works is owned by private equity firm Endless and Solomon.