Findel group sales up 11% in the 27 weeks to September 30
Group like-for-likes up 6.5%
Like-for-likes in Express Gifts up 12%
Pre-tax profit down 44% to £1.9m
Black Friday brought record week – orders up 36%
Findel's half-year profits have slumped, but its outgoing chairman David Sugden hailed an "extremely encouraging" performance in its Express Gifts division.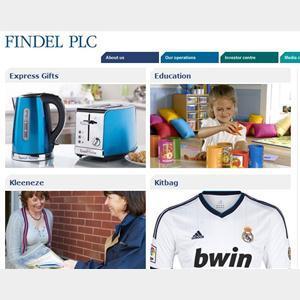 The home shopping group's half-year pre-tax profits came in at £1.9m – 44% less than the £3.4m reported at the same period last year.
Findel said this reflected ongoing investment across the group and "challenging market conditions" at its education arm.
The speciality retailer – the third-largest shareholder of which is Mike Ashley's Sports Direct – reported a "good sales performance", however, with group like-for-likes up 6.5% and total sales up 11% to £213m.
Like-for-like sales at its largest division, Express Gifts, grew 12% in the 27 weeks to September 30, which the retailer puts down to its new advertising campaign and improvements in its online offer.
Within the half-year period, the business reached its full-year target of 100,000 additional customers, and said Black Friday was a record week for the business with orders up 36%.
Findel executive chairman David Sugden, who stated his intentions to step down earlier this year, said the group has made "significant progress".
He said: "The strong trading performance of Express Gifts is extremely encouraging. It represents continued delivery against our digital strategy and gives us confidence to further increase investment in marketing and customer recruitment."
New chairman
Following Ashley's failed bid to replace Sugden as executive chairman, Findel is still on the recruitment trail.
Reports suggest former Home Retail chief executive Terry Duddy could be in line for the job, but the retailer said today that the process is ongoing and an update will not be provided until the new year.
Education division
Like-for-likes at Findel's education business dropped 5.4% in the period as market pricing conditions "remain challenging".
Sugden said: "The new management team in education are making good progress against a challenging market backdrop.
"Looking ahead, we remain confident that the ongoing investment in both our businesses will deliver improved returns for shareholders."