John Lewis sales dipped over the bank holiday as consumers basked in the sun, but Waitrose benefited from perfect picnic weather.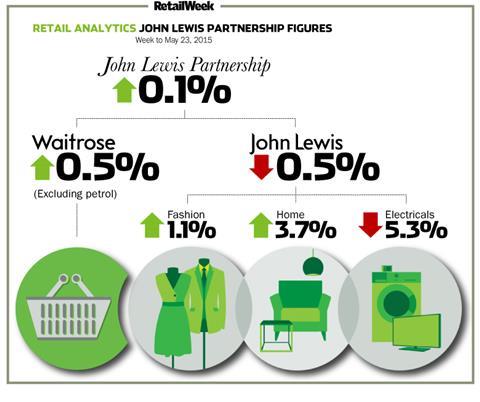 John Lewis weekly sales fall 0.5%
Waitrose sales up 0.5% as customers buy picnic food
Total partnership sales flat over bank holiday
The department store retailer said the slight dip of 0.5% in the week to May 23 was against a strong bank holiday Saturday last year.
Home sales increased 3.7% compared with last year as customers responded to promotional activity on furniture.
Fashion sales slowed slightly compared with recent weeks, but were still up 1.1%, with strong results coming from wholesale womenswear (21%).
Christine Kasoulis, buying director, home, John Lewis, said: "We had a strong start to the week while the skies were grey. Sales then dipped on Saturday as the sun came out for most of us and footfall dropped off. This was against a strong Saturday last year, owing to wet weather."
Meanwhile, online sales continued to perform well. They rose 10.6%, driven predominantly by fashion.
Waitrose, on the other hand, reported a sales increase of 0.5% compared with last year, but the retailer noted that it is still being hit by deflation.
The sunny weather led to customers buying picnic-style food, which helped Waitrose food-to-go products increase 9%, while small bottles of wine rose 21%.
Sales of grown-up soft drinks – such as fizzy elderflower – more than tripled.
Customers also chose to serve roast dinners over the long weekend, and sales of Yorkshire puddings rose 28%. While the half term break meant parents stocked up on easy family meals such as fish fingers (up 9%), frozen pizzas (up 6%), garlic bread (up 12%) and stir fry vegetables (up 16%).