Fat Face said its full-year EBITDA dropped 7.1% to £36.5m because of increased investment and "unseasonably warm weather" in its second quarter.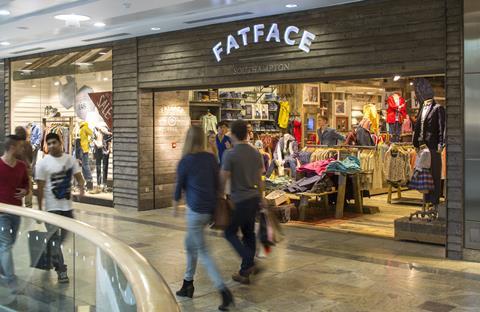 EBITDA drops amid £9m investment and "unseasonably warm" second quarter
Full-year sales up 2.7% to £205.4m as online sales jump 11.1%
New US website launched with stores poised to open in Q4 of this year
Revenues in the 52 weeks ending May 30 were up 2.7% to £205.4m, driven by UK expansion and an 11.1% jump in online sales.
But "record levels of investment", which saw more than £9m ploughed into the retailer, combined with reduced second-quarter sales, meant EBITDA fell.
Fat Face said its store estate space increased by 8% to more than 350,000 sq ft during the period. It now has 216 stores in the UK and Ireland.
The retailer added that plans to expand into the US have "progressed" during the year. It has already launched a new website dedicated to its US operations and plans to open its first physical stores in the fourth quarter of what boss Anthony Thompson called "a particularly exciting" year ahead.
Consolidation
Thompson said: "It's been a year of consolidation and investment for the business in variable market conditions. We were pleased to increase total sales by continuing to meet our customers' needs through improving our product range, store estate and ecommerce offer.
"After a difficult second quarter, where the sector as a whole was impacted by the unexpectedly warm weather, we traded well through the Christmas period and over the year have continued to maintain our focus on being a full-price retailer.
"The year ahead is a particularly exciting one as we take the Fat Face brand to the US. Our dedicated US website is already live and we look forward to the phased roll-out of physical stores, initially on the East Coast. We see a clear opportunity to offer US customers a brand which typifies an active, outdoor lifestyle but we will take a cautious and measured approach to make sure we get it right.
"With this, and our plans in the UK, we head into the next chapter for the business with confidence."