Fat Face delivered a 5% rise in retail like-for-like sales over Christmas, however the clothing retailer reported a dip in half-year profits.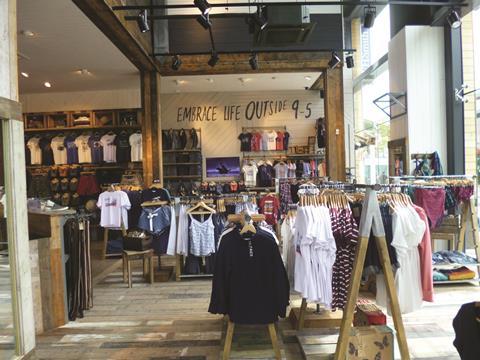 The clothing retailer, which abandoned plans to join the stock market in May due to market conditions, said total sales increased 13% in the five weeks to January 3 compared to the same period last year. Online sales soared 25%.
Click-and-collect sales comprised 42% of orders, up 119% on last year. The company said 65% of visits to its website were made via its mobile devices.
Fat Face chief executive Anthony Thompson said: "We have seen a strong multichannel performance over the Christmas trading period where we maintained our stance of not discounting prior to our Boxing Day sale.
He told Retail Week that "online came of age" this Christmas. "The reality is customers now have convenience. Click and collect can be ordered on December 23rd and available at the store the next day. Also we saw mobile take off."
"Our focus remains firmly on our customers who continue to trust in the price integrity associated with Fat Face, whilst benefiting from a genuine Boxing Day sale. When we did go on sale, our sale saw a number of records broken including the highest ever sales on Boxing Day itself and a strong online performance, where an order was being made every second at the peak."
Impacted by warm weather
In its half-year results, EBITDA fell to £19.2m from £19.6m the year before as the retailer was impacted by the unseasonal warm weather in September and October.
Many other clothing retailers, including Marks & Spencer last week, said they were hit by the mild temperatures.
Total sales remained flat at £99m for the 26 weeks to November 29.
Fat Face, which was acquired by private equity group Bridgepoint in 2007, said online remains strong, with sales up 11% and now representing 16% of overall sales.
On the retailer's half-year results, Thompson said: "After a strong first quarter in which we faced strong comparatives from the prior year, we were impacted by the difficult trading conditions for the remainder of the half, as the warm weather persisted across the UK. We have continued to improve and expand our store footprint with some fantastic new stores, as well as strategic relocations which have allowed us to showcase a broader product range to our customers."
Thompson said that Fat Face would look to mitigate against any future unseasonal weather by buying more in season, increasing closer to home and bringing in more transitional ranges. However, Thompson added: "Do remember that last season outerwear and knitwear was really on trend - just to add insult to injury."
The retailer refrained from participating in Black Friday, with Thompson adding that the strategy paid off. "We took the decision that we would drive through it full price and take the hit if we needed it. Actually we traded rather well, thanks to more traffic. It worked."
"We've emerged strongly from this trading period and are well positioned for the remainder of the year," he added.
During the period, the retailer boosted its store space by 7% with two new stores, four relocations, one refit and three extensions.
The retailer now operates from 212 stores.