DFS boss Ian Filby says he was "extremely happy" with the company's valuation following its stock market flotation earlier this month.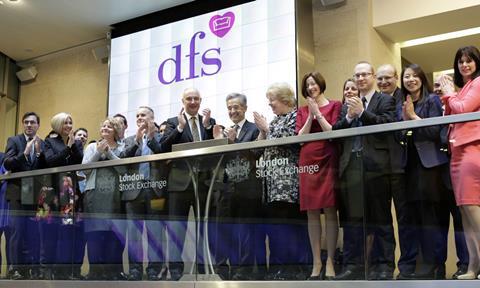 The furniture retailer was valued at £543.2m as it set its share price at the lower end of the marketed range despite press speculation before the float that the company could be valued at £1bn.
Filby said: "There has been a bit of confusion here – that [£1bn valuation] speculation goes back 18 months. That was an enterprise value – if you were to look at our enterprise value currently it is under £800m so you are not talking about numbers that are vastly different.
"I think [the £543.2m valuation] was an appropriate valuation at that point in the market. We are very comfortable with our entry and we were very strongly oversubscribed at our market valuation which enabled us to put together a really strong roster of long-only funds underpinning the stock."
DFS finance director Bill Barnes believes the IPO means the retailer is set up now to drive future profit growth.
He said: "We have refinanced on IPO and at a level significantly reducing that interest cost and will mean we are sowing a substantial profit after tax going forward."
The comments came after DFS unveiled its maiden results following the flotation.
Adjusted EDITDA for the half year to January 31 was up 16.5% to £27.6m for the period. Gross sales for the period soared 10.5% to £431.2m year-on-year, while like-for-likes increased 8.9%.
Barnes said: "A significant element of sales growth is like-for-like, which is why we believe that is evidencing a market recovery."