Shop Direct is set to unleash a week's worth of promotions during this year's Black Friday as the group's personalisation strategy bears fruit.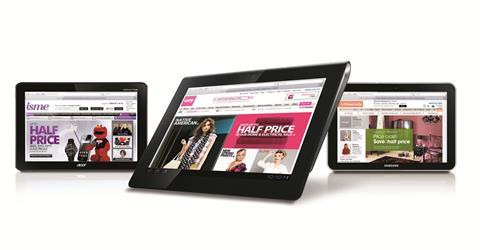 The retailer, which today reported a 512% jump in pre-tax profits to £40.4m in its year to June 30, said its first Black Friday promotion before Christmas last year generated the highest daily orders for Very.co.uk, with 10,000 orders placed during its busiest hour.
Speaking to Retail Week, Shop Direct chief executive Alex Baldock said he was gearing up for a record Black Friday, which takes place on November 28 this year.
"I'm pretty excited about Black Friday. We had a pretty good Cyber Monday last year so we've decided to make a whole week of it. Expect to hear about 'Sofa Sunday' and a few more things in the lead up to the Friday. Watch this space."
Black Friday – a US retail phenomenon that has made its way across the Atlantic – has gathered pace in the UK over the years, with more retailers putting on a flurry of promotions in a bid to encourage shoppers to open their pursestrings ahead of the Christmas season. Last year, discounting at Asda led to the Walmart-owned retailer selling 10,000 televisions in one hour of trading alone.
Personalisation plan
Shop Direct has been embarking on a personalisation strategy in recent years in attempt to provide customers with a tailored shopping experience.
Baldock said that the business was seeing the benefit of tailoring content to its customers, which involves showing products that are only in their size, the weather in their local area and their favourite brands.
"What we've been doing so far has been proving the point that personalisation is valuable."
Baldock said the retailer had seen a 7% uplift in conversions from displaying "persuasive messages" next to products, informing customers that items are close to selling out. Shop Direct has also tailored its email marketing, with the company now sending out 70 different types of messages according to the type of customer.
Next year Very will launch its premium arm, Very Exclusive, consisting of mid- to high-end labels such Marc Jacobs, See by Chloe and denim brand J Brand.
Baldock said the arrival of Very Exclusive, designed to coincide with London Fashion Week in February, was a result of Shop Direct "turbocharging" its existing strategy of introducing more well-known brands to its existing portfolio.
"Where this has come from is seeing that whenever we put more premium brands such as Apple, Samsung, Hunter Boot and Ugg, in front of our customers they have lapped it up. Our customers have been telling us [through research] which brands they would buy from us if we stocked them. We are turbocharging charging our existing strategy of providing more famous brands."
Luxury high street fashion
Gareth Jones, Shop Direct's recently promoted deputy chief executive, said there was a gap in the market for luxury high street fashion and revealed that Very Exclusive would expand into menswear and kidswear in the near future.
"The site will offer womenswear, beauty and accessories to start with for the first two seasons then we'll offer men's and kidswear down the line."
On the results, Baldock said: "Top-line growth has come from Very and from mobile, and I don't see those trends changing. Very is the future of Shop Direct…over time it's become more important and mobile – frankly we're surprised by how fast [the growth] it has happened. We don't know [what the future growth in mobile could be], we just intend to be ready for whatever comes by trying to build an easy online experience whichever device a customer visits from."