Shop Direct used data analytics to gain a clear picture of is competition, its customer director told the Retail Week Customer Experience event.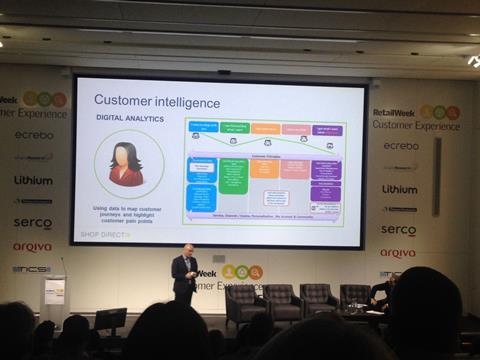 The company moved from an anecdotal-based understanding of who its competitors were to using data to more effectively recognise which other companies Shop Direct really competes with.
Customer director Dene Jones said: "Now we know the market we operate in – who do we compete with? We did an evidence-based piece of work to quantify exactly who we compete with in terms of share of wallet and it had a massive impact on our business," said Jones.
"From this research we have clarity over who to obsess about, we track them on a regular basis and it's changed our view of our competitors; it's not Asos," Jones said.
The company has also changed its view of its customer after using data analytics. "We've built a customer value model," Jones said.
"For each customer we're able to quantify the revenue we make and the costs associated with each customer."
Through this work, Jones explained that Shop Direct is now able to pinpoint exactly where the company is losing money through customer management.
"We finally understand that we need to look at each customer on an individual value level," he said.
Mapping out where this value comes from is important for personalisation. And through a segmentation system, the retailer is starting to build strategies based on segments rather than simply if someone is a customer already or not.
Understanding data
It's also important to consider both net promoter scores (NPS) and customer value. "We make a lot of decisions based on NPS, and use it to decide where we put our efforts and resources in terms or changing the customer journey," said Jones.
"But we need to align customer value with NPS data to create an environment to make much more solid business decisions."
But even before businesses effectively use data they need to understand what data they have and where it sits in the business, said Jones.
"Our ambition is to become a world-class digital retailer and we want to achieve that by being customer-centric. When I joined customer accountability was very fragmented across the business."
To address that, Jones took the responsibility for data and accountability into his customer team.
Although the Shop Direct team is now well into its work to better understand customer data, the business like most others, still has some way to go.
"No retailer can say they've mastered digital analytics, we've started and one day I'm hoping we'll crack it," said Jones.
M&S's Bousquet-Chavanne says nurturing trust in a brand is vital
1

2

3

4

5

Currently reading

Customer Experience event: Shop Direct's data changed its view of competitors and customers