Online retailer Farfetch has bought London fashion boutique Browns in order to operate it as an incubator for retail technology.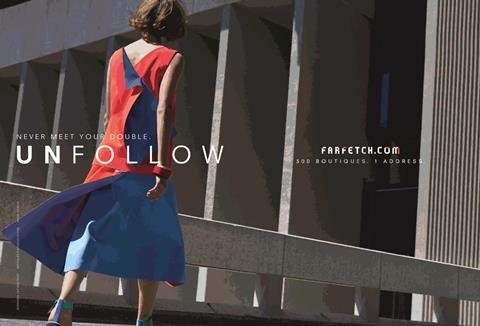 The acquisition is part of an initiative that Farfetch founder and chief executive Jose Neves has dubbed the 'store of the future'.
Browns, which has a reputation for introducing new fashion labels to consumers, will test digital concepts around areas such as managing inventory.
Farfetch sells products from around 300 independent boutiques and allows customers from around the world to buy items from any of the member boutiques. Browns had been part of the Farfetch network for two years prior to the acquisition.
Neves said: "The vision is to answer the question 'How will people shop for luxury fashion five or 10 years into the future?' This won't be purely online. The answer, we believe, will be a seamless merge of a fantastic physical experience with powerful, yet subtle technology. Browns is the perfect partner for this evolution."
New Browns boss
As part of the acquisition former Net-a-Porter fashion director Holli Rogers will join Farfetch as chief executive of Browns.
The business will continue to be run separately by Farfetch and Rogers will have responsibility for growing Browns on and offline.
Browns founder Joan Burstein will become honorary chairman and her children Simon and Caroline will stay on as advisers with seats on the board of directors.
Farfetch's new Store of the Future business unit will be led by former Harvey Nichols multichannel director Sandrine Deveaux, who will take on the position of managing director.
Deveaux will be tasked with developing innovations in retail technology and omnichannel at Browns before rolling them out across the Farfetch network.