Argos is to launch an interactive TV buyers' guide on the web to take advantage of the expected increase in TV sales in the build-up to the World Cup.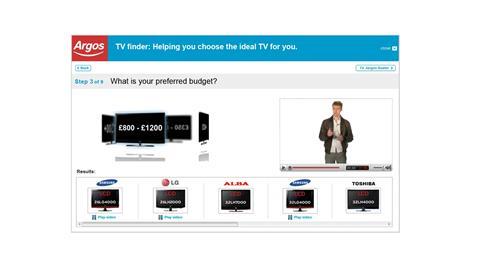 Argos has described the site, set to go live on May 5, as a guided shopping experience to help customers narrow their purchase selection from the range of TV options the retailer sells online.
Argos developed the site in partnership with iSiteTV, who will host and stream the Argos TV Finder.
The tool includes product video content, over 30 video tutorials and search tools to maximize customer engagement.
The retailer expects to have included 200 high definition TVs on its site before the start of the World Cup. During its most recent peak trading period, Argos was selling one TV every 12 seconds, and sold 225,000 'basic' set-top boxes over the same period.
Customers will not have to provide personal details to use the TV Finder, but browsing behaviour can be tracked and used to help personalise future communication with customers, for example in email campaigns, and give insight into purchasing decisions.
Argos head of product marketing and ecommerce Ross Clemmow said: "The insight gained by customers using this platform will provide us with a better understanding of planned family engagement and how their new TV purchase is being used in the home." He added that interactive experiences help "convert browsers into buyers".
Across all its product ranges, Argos has over 400 product videos online which attract on average 120,000 views per month.